2,273 total views, 2 views today
A whopping PhP 1.1 million grand prize will be at stake in the surfing competition Surf in the City 2022 which opened last Saturday in Borongan City, Eastern Samar.
Borongan City Mayor Jose Ivan Dayan Agda graced the opening ceremony of the event, which is sanctioned by the United Philippine Surfing Association (UPSA), the country's national governing body for the sport.
It will be the third time that Borongan City is hosting the event, which brings about 250 surfers from all across the country to the capital of Eastern Samar.
The value of the winning pot for both the men's and women's divisions is the biggest prize money in surfing competition history in the Philippines — something that Surf in the City chairperson Rupert Ambil made a point to bridge the gap between the two genders in the sport.
"If hindi mo kayang i-explain kung bakit mas malaki ang prize money ng lalaki sa babae, eh, fundamentally, mali iyon. Tayo dito naniniwala sa strength ng all genders," Ambil said, adding that gender equality and honoring LGBTQ rights are values that a Boronganon respects.
"It's really a statement from all of us, not only the surfing community but as representatives of Borongan City, Eastern Samar."
Agda added that he plans to institutionalize the event as part of the local government's goal of raising surf athlete champions in a city that is fittingly gender-sensitive.
"The City Government will not just abandon this program. We intend to institutionalize this. Yes, we will come in sponsorship but we will see to it that the spirit of hosting the Surf in the City will not be compromised," he said.
"That's the very purpose why we are holding a Sports Summit next year — because we intend to institutionalize everything."
Contributed photo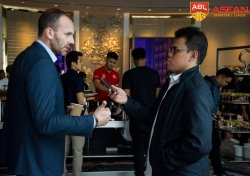 Latest posts by Nguyễn J. Văn Linh (Levi Verora)
(see all)