Veteran basketball head coach Aldin Ayo is preparing for the latest chapter in his coaching career.
With the Chooks-to-Go MPBL Invitational slated in December at the Mall of Asia Arena, Ayo hopes his system translates to success when he handles the Xs and Os for the Bicol Volcanoes.
Known more for his success in the collegiate level, especially with the Letran knights and the De La Salle Green Archers which he both led to titles, Ayo said the MPBL will be a much more competitive challenge.
"This is a different level. Cream of the crop (ito).  These are players na standout noong college that's why they are here," Ayo shared.
"Different approach, but almost the same system. They have to play within the system. They have to compete because hindi na 'to college eh. Mas mataas na 'yung level ng competition."
Helping in Bicol's quest to have a respectable showing in the FIBA-style tournament are familiar faces to complement Ayo's system, like Mark Cruz, McJour Luib, Mac Tallo, Mark Yee, Ralph Tansingco, and JV Marcelino.
the multi-titled mentor is also wary the lack of preparation time means the squad has to double its effort in practices to build cohesion with just two weeks to go before the start of the competition.
"I got to be able to pick the players that we need and the players that we think will fit into the system," Ayo said of the roster-making process.
The tactician also thinks teams with talented players will already have the initial edge in the competition.
"Teams that have talented players will have the advantage because of the short preparation. It think most of the teams who have that are just going to maximize their players," he added.
But Ayo is also confident in his team's maturity level, given that they all have significant experience in the pro ranks, especially Yee who is an MPBL champion himself.
"I treat them as responsible individuals because of their age. They are mature, literally, and in terms of their approach towards a game. They are matured with the physical aspect," Ayo said.
"They really have to provide what the system demands. At the end of the day, we have to compete and whatever is needed to win, they have to provide that."
And for the 13-day tournament, Ayo will ultimately rely on having a system that has many tricks up his sleeves.
"It's about being unpredictable and about playing as a team. It's all about competing and hopefully, we are going to get good results," he concluded.
Chooks-to-Go MPBL photo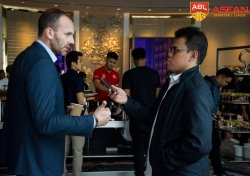 Latest posts by Levi Joshua Jr Verora
(see all)