by Henry Liao
Trivia: Who is the NBA player from the mid-1980s who was known to have eaten a slice of pizza, nachos, and popcorn and consumed a cup of pop soda on the bench during a regular-season game between Chicago and San Antonio?
JA-WOR-SKI, JA-WOR-SKI … In the NBA?
Is there a Jaworski in the National Basketball Association? Yes, Sonny, there is.

He's an American and is not of Polish roots as our very own "The Big J" Robert Jaworski does have. They are not related, of course.
Justin Jaworski is his name. He's a 6-3 guard out of Lafayette University (2017-21) who suited up for the Atlanta Hawks in the recently-concluded MGM Resorts NBA Summer League that was won by the Sacramento Kings (one of the assistants of head coach Bobby Jackson was Jimmy Alapag, who has since gotten another gig as an assistant coach with the Stockton Kings, Sacramento's NBA affiliate in the G (Gatorade) League.
Jaworski, who was snubbed in the 2021 NBA draft despite averaging a four-year career-high 21.5-point average with the Lafayette Leopards as a senior, played decently in the LVSL event.
The 22-year-old shooting guard scored 21 points (6-12 FGA, 5-9 3FGA, 4-4 FTA) in two games and 31.8 minutes off the pines as the Hawks finished with a 2-3 record.
Jaworski is vying for an official roster spot as a rookie with the Hawks when the NBA marks its 76th season on October 20 Manila time.
+++
Trivia Answer: On March 1985, in a regular-season game featuring the visiting Chicago Bulls and San Antonio Spurs, Bulls guard Quintin Dailey, going against the usual NBA decorum, requested a ballboy to bring him food. As the third quarter came to a close, Dailey was on the bench eating a slice of pizza, nachos and popcorn and gulping a soft drink. Dailey, a 6-3 guard out of the University of San Francisco, played 10 seasons (1983-93) in the NBA with Chicago, LA Clippers and Seattle. He died on November 10, 2010, at his home in Las Vegas at age 49 due to hypertensive cardiovascular disease.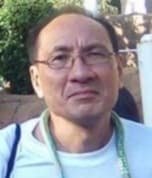 Latest posts by Henry Liao
(see all)