2,304 total views, 2 views today
Gilas Pilipinas stunned Korea on a buzzer-beating trey to pick up an 81-78 win on Wednesday in the 2021 FIBA Asia Cup qualifiers third window in Pampanga, Philippines.
The game offered a first look at Filipino teenage sensation and NBA prospect Kai Sotto, who played for the first time on local soil years after he went overseas to train for his NBA dream.
The 7-foot-3 center came off the bench finished with an overall stat line of 11 points, seven rebounds, two assists, and one steal in 18 minutes, while shooting 4/9 from the field and 3/4 from the free-throw line.
After the game, head coach Tab Baldwin offered his candid assessment of the 19-year-old star against a much more experienced Korean side.
"I think what we saw from Kai is a very young player that wasn't really well-prepared but what a heart he has," Baldwin said of his young center.
Sotto did have a shaky start when he checked in during the opening frame, missing forced shots, perhaps overwhelmed at first by the physicality of the opponent.
But once Sotto got his legs under him, he showcased a glimpse of how far he's gone in terms of skills development and maturity.
There was a sequence in the second quarter where Sotto swatted the ball off a Korean who drove, then dribbled coast-to-coast before finishing with a soft touch  over naturalized big man Ra Gu Na (formerly Ricardo Ratliffe).
Later in the second half, he was able to beat a defender off the dribble with a quick first step and again finish off the glass, showing his repertoire on the court.
The American-New Zealander mentor added Sotto will continue to get better as the days progress and when he's played more games.
"What you saw was him making an adjustment. He started to deliver back and dish back physicality. Most importantly, you saw the determination in Kai to make an impact in the game," Baldwin remarked.
Sotto arrived in the Philippines earlier in the month and had to complete quarantine protocols, virtually missing almost the entire preparation.
Before he was penciled into the Gilas Final 12, it was uncertain up to game day if Sotto could play for the nationals.
FIBA.basketball photo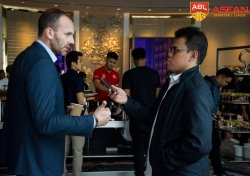 Latest posts by Nguyễn J. Văn Linh (Levi Verora)
(see all)