FIBA's decision to merge Asia and Oceania for future continental competitions has benefited not only regional powerhouse teams Australia and New Zealand, but also the small island of Guam, whose basketball team is looking to make its mark.
The United States territory in the pacific won its first-ever game in the 2021 FIBA Asia Cup qualifiers, decisively beating Hong Kong, 103-83.
Center Tai Wesley paced the Guamanian side with a near triple-double of 25 points, 10 rebounds, and 9 assists, while Filipino-Guamanian Jericho Cruz added 24 points and 7 assists.
The NLEX Road Warriors shooting guard caught fire early on, scoring 19 first-half points on 7/8 shooting to pace Guam.
"It's huge for us. This is the first time we've ever played in a FIBA Asia Cup qualifier. We're excited about getting to this moment," head coach EJ Calvo said about the world no. 85 squad's participation in the qualifiers.
"Though we're able to play only one game and host one game before the pandemic, we always told ourselves whenever there is an opportunity to play, we'll be here and we'll do the best we can. We are very happy to be here. I hope the small island of Guam is happy we got our first win."
Guam made its qualifiers debut prior to the pandemic, losing to New Zealand. The island is in Group C alongside Australia.
Prior to its campaign in the FIBA Asia Cup system, Guam usually participates in the Pacific Games, as past FIBA Oceania competitions were often just a two-nation series between the Boomers and Tall Blacks.
Guam plays Hong Kong anew on June 15, needing all the wins it could get to boost its rank and possibly qualify for the FIBA Asia Cup proper later this year, a grand stage considering they have not been exposed to such level.
"We kind of started slow, but picked it up. Hong Kong gave us a good run. But as a team, we stayed together and played it out," Cruz said.
If anything, Cruz's decision to play for Guam also boosts awareness for the territory's basketball culture in the Philippines where the sport is extremely popular, to a certain ripple effect.
Unbeknownst to many, even former Adamson Soaring Falcon Will Stinnett also saw action for Guam when it played New Zealand in early 2020, while former Ateneo Blue Eagle Kirk Long also suited up for Guam's pro-am league.
"I just have to say we've come a long way and we are very excited to be here so came to play, although we have a lot to work on and a few things we have to improve on, not playing any games over the last year or so," Calvo added.
"We're excited we're able to play this game, and we're focused on the next one."
FIBA.basketball photo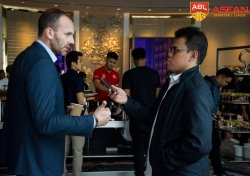 Latest posts by Levi Joshua Jr Verora
(see all)