By Brian Yalung
Kimberly Bertelsen, a Filipina figure skater currently in Denmark, will be one of several skaters performing in the opening ceremonies of the ISU World Figure Skating Championships 2021 on Mar. 24, 2021, at the Ericsson Globe, Stockholm.

The 15-year-old first announced via her official Facebook page. Before she left for the festivities, Kimberly took some time out with Sports Bytes Philippines to share her journey and how she landed a spot during the ISU World Championships opening ceremonies.
"My coach told me that there was an audition for the opening ceremony of the ISU World Figure Skating Championships. He asked me if I wanted to join so I said 'Yeah, sure'," Kimberly shared.
However, the 15-year-old Bertelsen needed to make the necessary adjustments to get a shot. She shared how she needed to learn a dance and needed to improvise before sending a final video to the ISU World Championship committee.
"I had to learn a dance that they sent to me. I had to improvise to the music on the ice. I sent that video of myself, told a little something about me. I sent it then two weeks later, I got an email from them, congratulating me because I was accepted to the group that would be performing at the ISU World Figure Skating Championships Opening ceremony," Kimberly stated.
There will be five pairs of skaters with about 20 others from Sweden who will be performing at the World Championships.
Kimberly admitted that the World Championship committee was initially trying to reach her by phone. Being an unknown number, she did not answer it. She called back and it was only then that the Filipina teen realized she had earned the nod to be part of the opening ceremonies on Mar. 24.
Upon hearing the news, Kimberly admits that it also came as a shock to her parents since it was something they were not fully aware of.
"They were like shocked because I haven't told that much about it. So they were like, 'Oh My God Congratulations! Good job Kimberly, that stuff but I think they were proud of me," Kimberly recalled.
When asked if she had any plans to compete for the Philippines, Kimberly nodded. However, she knows that there is work to be done. So before considering that, the 15-year-old wants to make sure that she is at the top of her game to make sure that she can make the country proud.
"Yeah it's part of my plan for the future but not now. I want to be better so that when I compete there, I can like go to the top and then represent the Philippines with the flag on my back," Kimberly said.
Kimberly ended the interview with this advice to all skaters who are having a difficult time adjusting to the new normal caused by the pandemic.
"During the pandemic and if you are shut down, you have to practice and train at home. Don't give up on your dreams. Always practice and train at home so that when go to the ice, you don't lose any of your jumps and you can do better," Kimberly Bertelsen ended.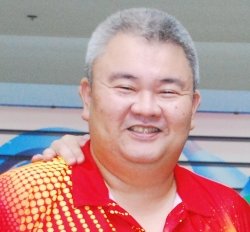 Latest posts by Brian Yalung
(see all)