One of the challenges for athletes, both amateurs and professionals, amid the on-going pandemic is to stay fit in spite of several restrictions.
And with most contact sports still prohibited, Fairplay For All, the foundation responsible for Payatas F.C., has turned to an innovative way to remain active and healthy: teqball.
The relatively new sport which looks like a hybrid of table tennis and football has made its way to the communities of Payatas, where football has long been a sport for its residents.
Using a table that is bulging at the center, athletes take turns with football juggling and volleying skills to play the game.
According to Fairplay For All, a local welder was contracted to build the table, and it has now benefitted athletes in Payatas.
Teqball began gaining popularity around the world in 2017, and for a country like the Philippines, it might grow hand in hand with football itself.
For Payatas players, it's something to keep them glued to the sport while waiting for everything to go back to normal.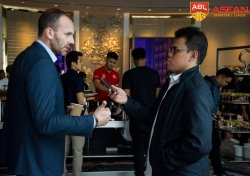 Latest posts by Levi Joshua Jr Verora
(see all)