2,079 total views, 1 views today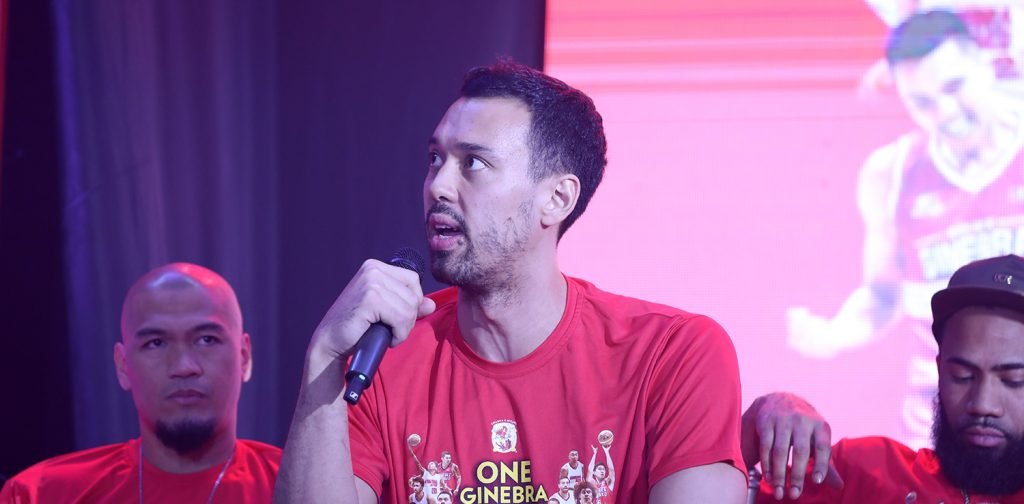 by Dennis U. Eroa
Rejoice basketball world! Gregory Slaughter's coming back to thrill the basketball world but before the "Gregzilla" lifts the hopes and aspirations of the Ginebra Nation, it's time for us to know one of the gentle giant's sources of strength and inspiration.

Slaughter, an Atenean, and no doubt a vital piece in the Gin Kings' bid for supremacy is happily married to the wonderful and gorgeous Schinina, a De La Salle alumnus and logistics producer at Philippine Film Studios, Inc. Schinina's also one of the owners of COCO Couch Clothing lines.
And this is where the name Lope V. Juban Jr., comes into this interesting story. Jun, 62, and another DLSU graduate happens to be Schinina's father. Jun is the father-in-law of Greg.
This is what Slaughter thinks of the amiable, polo-loving Jun, who became the talk of the town after being named the Camera Obscura Artistic Excellence Awardee. It is a lifetime achievement award from the highly-respected Film Development Council of the Philippines. Juban's film studios put Philippine cinema on the global map.
"My father-in-law is an inspiring man. Day in and day out, I've seen the way he has dedicated himself to his craft and his family. He is consistent in how he works, how he takes care of his family, and how he deals with people on a daily basis. One of the nicest people you will ever come across, he is well-loved and respected by his community and his peers. What has always left a lasting impression on me is how he has always remained humble despite his many achievements.
Aside from hearing the many interesting stories filming classics like Apocalypse Now and Platoon, he has also imparted a lot of lessons to me that he's learned over the years. He is always there whenever I need advice and guidance, and you can count on him to tell you his honest opinion. Being that he is a die-hard Lasallian, it is only natural for him to tease me about being Atenean. But I've been with the family for almost 5 years now, and he's been nothing but good to me. He's welcomed me with open arms and has been supportive of my relationship with my wife, Schinina, ever since the beginning. One thing I can tell you is that even if he works hard, he will always make it a point to be present for the family.
As a sportsman himself, we've bonded over our shared interests and love for competition. Not only does he produce films, but he also produces points on the polo field. I enjoy watching dad and my brother-in-law, Santi, whenever they play.
He sets a standard for himself and his entire company, and a testament to that is the number of repeat clients they've had over the years. They know that they are in very capable hands. If you ask me, the recognition he is receiving has been a long time coming. The contributions he has made to our local film and tourism industry are insurmountable and our entire family is truly proud of him. I'm incredibly blessed to call this inspiring man my father-in-law."
Well said, Greg.
Jun is presently the executive producer of the Philippine Film Studios, Inc. Jun was 15 years old in 1973 when his magical journey to the kaleidoscope world started. "Our father passed away in 1972 and my only brother Dennis took over. Kuya Dennis took me in as a runner/personnel assistant. Our family business then started with props and movie gun rental. My kuya ventured into film production and during the summer break, I worked on my first major film which was APOCALYPSE NOW." The movie by Francis Ford Copolla was also filmed in Baler, Pagsanjan and Metro Manila.
I first met Jun through a common friend because his son Lope III was a star playmaker for the De La Salle Zobel in the heated UAAP junior basketball wars. Jun was a regular fixture in the games, while I religiously covered the sport. The young Juban would become a member of the mythical five but he decided to pursue other interests other than shooting the hoops. He is now location manager for their film outfit. My first impression was Jun's down-to-earth and it warms the heart that he hasn't changed a lot in character and looks when we met before the pandemic last year with Greg and Schinina.
Jun is happily married to the former Tina Yuseco. The only girl in the family is Schinina. The sons are Nikolo, Lopez 3rd "Pox" and Santi, who is currently a member of the Philippine national polo team.
The nationals created big news when they won the silver in the Manila 30th Southeast Asian Games.
The FDCP recognition thrilled the family. "Finally". "Unheralded and unsung for so long. Your hard work, relentless dedication and valuable contribution not only to the film industry but to tourism as well for your pursuit to keep our country in the consciousness of the viewers globally have finally been given due recognition.The kids and I and the PFSI family are mighty proud of you," wrote Mrs. Juban.
In 1978, tragedy hit the family as Dennis passed away at the tender age of 34 following a helicopter accident. Jun was graduating from college and decided to give line producing foreign films a try.
"Luckily I was able to handle well my first American film, "Don't Cry its Only Thunder" a film about an orphanage in Vietnam, The rest is history."
Juban's most memorable work was Platoon with Oliver Stone. The movie won the Oscars' Best Picture in 1987."We were filming the movie in the middle of the Edsa Revolution," Jun fondly recalled. Scenes were shot in Cavite, Mt. Makiling in Laguna and the Villamor Air Base in Pasay City.
Jun remains active in filmmaking but the day-to-day work is now being managed mostly by his children. "The past 11 years, we have been producing reality shows like SURVIVOR from different countries and regional films from Korea and Japan," said Jun. His film outfit also handled the Bourne Legacy. And his dream project is to make a film about the Filipino-American war.
To relax, Jun actively plays polo. He also has a regular senior group playing basketball in his village. "But the pandemic put a stop to it so we are all hoping we can have our regular games again soon," said Jun, who was a member of the swimming training team during his college days at DLSU.
There's no better comfort in knowing that while he enjoys the fruits of success, Jun is a loving father husband and father. He has simple but exalting reminders to all: Do well in your work. Save. Enjoy your children, while they are young because before you know it, they will be bigger than you and will have their own families.
Proud lolo of five, he treats his staff and crew fairly and unafraid to chart new territories. "Always do your best in what you do, It is better to decide than not having a decision at all. Even if it turns out wrong, at least you gave it a try."
Whenever there's a family get-together, the topic on what's better between Green and Blue is a hot topic. "It's a never-ending source of fun and teasing, Greg married into a family of La Sallians. You can imagine the banter during family gatherings."
But the impassioned pursuit of Ateneo-DLSU to cage supremacy takes a backseat when it comes to professional basketball.
"Of course Ginebra. Whenever Greg is that's my favorite team. Given time, I will watch PBA. I will try to watch more games of Greg. He is family now and he has always been family," said Jun.
Expect the Gregzilla to be incredible in the coming PBA season.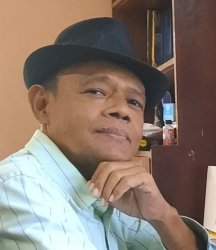 Latest posts by Dennis Eroa
(see all)