Dra. Fille Claudine Cainglet, the first-ever draft pick of the WNBL-Pilipinas, will treat the upcoming season as a throwback to her college varsity days in terms of work-life balance.
Now 32 years old and a doctor by profession, Cainglet is looking at the pro women's league journey as something similar to her stint with the UP Lady Maroons.
The 5-6 point guard starred for the Diliman side from 2006-2010, making memorable runs each season.
Drafted by the Glutagence Glow Boosters, Cainglet admitted her current schedule is already daunting, having to go on long shifts.
"Heavy pa rin yung work… we go on duties (stretching) 24 to 36 hours," said Cainglet, who added among her duties are doing patient rounds and being in the surgery department.
Cainglet was in fact drafted real-time while in the operating room.
But having prior experience from her collegiate days, Cainglet is looking forward to the challenge once again, while trying to lead the Glow Boosters to the podium.
"Para syang student-athlete life ulit which is we are used to, with good time management, I will be able to move around things," she said.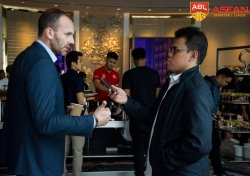 Latest posts by Levi Joshua Jr Verora
(see all)