800 total views, 1 views today
Veteran NBA reporter and analyst Sekou Smith has died from COVID-19 complications Tuesday. He was 48.
Smith was best known for his Hangtime Blogs on the NBA website. Later on, he became an analyst on screen for NBA's Game Time show.

Tributes immediately poured on Twitter for Smith from his colleagues and fellow journalists and analysts in the industry, commemorating his life.
In a statement sent out by NBA Commissioner Adam Silver, he mentioned that Smith was one of the most dedicated reporters in the business.
— NBA (@NBA) January 27, 2021
Heavy heart today..We lost a good brother to Covid.
Sekou Smith of @NBATV and https://t.co/dyMHCgGy2q was a brilliant and insightful writer,a positive dude.
He's gone home to be with the Lord. 🙏🏽
Philippians 4:4 pic.twitter.com/Yw5xvwZ51g

— MarkJonesESPN (@MarkJonesESPN) January 26, 2021
Sekou was the very best. Just an incredibly kind, funny dude. One of the people I most looked forward to running into on the road. Just awful news. Our writing community hurts tonight.

— Chris Herring (@Herring_NBA) January 26, 2021
ESPN's Jemele Hill shared a story of how the two met as interns.
I've known Sekou Smith since I was 20 years old. Never forget the day we met. We were both interns at the Plain Dealer in Cleveland and we met filling out our paperwork. We clicked right away and a great friendship was born. I'm glad he's at peace, but this absolutely hurts.

— Jemele Hill (@jemelehill) January 27, 2021
My friend. This is so sad

— Marcus Thompson (@ThompsonScribe) January 26, 2021
Sekou Smith was my brother from another. We bonded from day 1, mostly because he bonded with everybody from day 1. I'm absolutely gutted, especially for his wife, his kids & his pops. I can't describe how much his friendship will be missed.

I love you, brother. pic.twitter.com/ihV9CXlgoY

— John Schuhmann (@johnschuhmann) January 27, 2021
Sekou Smith was the very best of us. Smart. Funny. Unflinching. Full of good. A lot of days and nights on the road with him – Bubble, Finals, Olympics, wherever – and always this: Photos of his kids playing ball, or graduating, or leaving for college. Godspeed, my friend.

— Adrian Wojnarowski (@wojespn) January 27, 2021
COVID-19 has affected several millions in the United States, with over 400,000 deaths to date.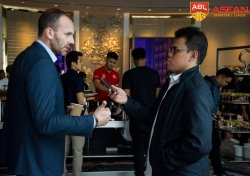 Latest posts by Nguyễn J. Văn Linh (Levi Verora)
(see all)