The James Harden era in Houston is over.
The Rockets superstar has been traded to the Brooklyn Nets as part of what has expanded into a massive 4-team blockbuster deal Wednesday.
ESPN's Ramona Shelbourne and Adrian Wojnarowski broke the development.
Reporting w/ @RamonaShelburne: Brooklyn's acquiring James Harden in a three-way deal with Cleveland. Caris LeVert, Dante Exum, Rodions Kurucs, four 1st round picks – including Cavs' 2022 first via Bucks — and 4 Nets pick swaps to Rockets. Jarrett Allen, Taurean Prince to Cavs. https://t.co/qM0ZDH4dH3

— Adrian Wojnarowski (@wojespn) January 13, 2021
Initially, the Nets received Harden, allowing him to reunite with their own superstar Kevin Durant.
He will also join forces with Kyrie Irving to make a formidable big 3, although Irving has not showed up in Brooklyn's recent games.
In return, the Nets gave up Rodions Kurucs, Caris LeVert, 4 future first-rounders, as well as 4 pick swaps.
The Cleveland Cavaliers got involved in the deal, sending Dante Exum to the Rockets.
The Cavs then received Taurean Prince and Jarrett Allen from the Nets.
Sources: Full current trade:

Rockets: Victor Oladipo, Dante Exum, Rodions Kurucs, 3 BKN first-rounders (22, 24, 26), 1 MIL first (22, unprotected), 4 BKN 1st round swaps (21, 23, 25, 27)

Nets: James Harden

Pacers: Caris LeVert, 2nd-rounder

Cavs: Jarrett Allen, Taurean Prince

— Shams Charania (@ShamsCharania) January 13, 2021
Later on, the Rockets dealt LeVert to the Indiana Pacers, trading for all-star Victor Oladipo. The Pacers also received a future pick.
The full breakdown could be seen above in a tweet by The Athletic's Shams Charania.
With the trade, the Rockets now have a core of Oladipo, John Wall, and DeMarcus Cousins.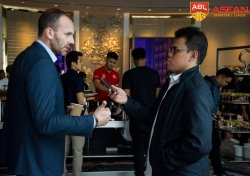 Latest posts by Levi Joshua Jr Verora
(see all)