On Sunday, Phoenix Suns forward Mikal Bridges dropped a career-high 34 points in the team's win over the Indiana Pacers.
Later in the post-game, the Suns knew they had to celebrate Bridges' career performance with a water bath inside their locker room.
Just so you can have all the angles 🤩 https://t.co/ca5GYKetpe pic.twitter.com/WphLz2TRH2

— Phoenix Suns (@Suns) January 10, 2021
Veteran point guard Chris Paul, who was acquired during the offseason via a trade, had high remarks for his new teammate, as reported by Kellan Olson of Arizona Sports:
Chris Paul said Mikal Bridges is one of the best guys he's ever been around. Mentioned that Bridges is about his business and takes on the toughest defensive assignments but also that he's slick and has a great spirit about him. CP3 feels like he made the shot when Bridges does.

— Kellan Olson (@KellanOlson) January 10, 2021
Paul added Bridges not only is a tough offensive creator but is also a great person off the court.
"Aside from Mikal taking pretty much the toughest defensive assignment night in night out … he can hoop, he nice, but then … he's slick man. You gotta watch him. He's real slick with his tongue. A fun guy, a very fun guy to be around. He just got a great spirit about him."

— Kellan Olson (@KellanOlson) January 10, 2021
The 24-year-old Bridges is averaging 15.2 PPG and 5.4 RPG, while shooting 49% overall from the floor.
The 3rd year pro has blossomed in a starting role, and the Suns are currently in the playoff picture, thanks to Bridges' valuable contributions.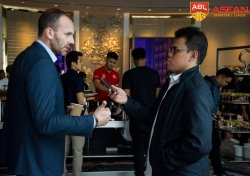 Latest posts by Levi Joshua Jr Verora
(see all)