On August 2, 1980, the U-Tex Wranglers and the Toyota Tamaraws squared off in Game 5 of the PBA first conference championship.

For hoop fans, this is best known as the celebrated comeback win of the Wranglers who were trailing by four, 94-90, with 16 seconds left in regulation.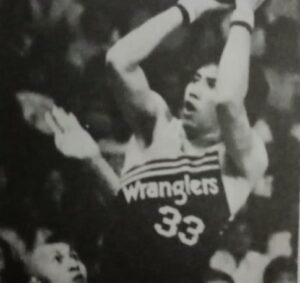 Toyota, then coached by Fort Acuna, got the four point lead thanks to a drive by Francis Arnaiz. And just when it seemed that the Tamaraws were well on their way to the crown, then-U-Tex coach Tommy Manotoc seemed to have imparted his fighting instincts to his wards.
"If we ever go, let's all go down trying," Manotoc said to his boys at that time.
Wranglers' import Aaron James responded and scored unopposed to narrow the gap, 92-94. After that, U-Tex did a press that allowed them to intercept an inbound pass. Glenn McDonald would then sink two free throws with about two seconds remaining in regulation.
In the extra period, it was a comebacking William Adornado whose drive turned out to be the winning shot with still over about a minute left in extension. His shot came after Lim Eng Beng had cut the lead of the Tamaraws to one, 98-97, scoring a free throw off the sixth foul of Ramon Fernandez.
"I can't believe. I really can't believe it," a crying Adornado said after the game. He finished with 29 points for the Wranglers.
"Any team under that circumstance would have given up," added the player who was acquired by U-Tex from Crispa halfway through the elimination round.
The win also served as some vindication for Manotoc who was criticized for giving up too early against the Tamaraws in Game 4. Toyota won that game, 113-92.
Manotoc was quoted of saying at that time that "the game was totally lost and it was useless fighting when I knew we could not win anymore."
It was also at that time that Manotoc, the first coach to break the Crispa-Toyota dominance of the PBA championships came out with a quote from a Chinese proverb: "One step backward and two steps forward."
Aware of the criticism, Manotoc added: "But who knows, maybe it was those six minutes rest which gave my boys the extra strength to pull off that win. The victory was certainly vindication on our part.
McDonald, who was on the verge of collapse after the game, led the Wranglers with 36 points. Aside from Adornado, Lim Eng Beng also finished with 22 markers.
For Toyota, Francis Arnaiz and Robert Jaworski led the Tamaraws with 21 points each. Ramon Fernandez had 17 markers while Arnulfo Tuadles had 10 points.
*All quotes were lifted from the Bulletin Today dated August 3, 1980.