The undefeated onslaught of Sino F.C. in Men's Division I of the AIA 7's Football League Season 6 continued with a 3-1 victory over Garelli United on Sunday at the McKinley Hill Stadium.
Joseph Adams scored a brace for Sino, including a spot kick from close after he was fouled near the penalty area. That goal sealed the win for Sino, which extended its winning streak to five wins for joint leadership in the 10-team Division I tournament with 15 points.
Manhur Fatima F.C. likewise extended its unbeaten run to five matches, after stunning former three-time champions Rangers F.C. PH, 2-1 in a highlight-filled match day.
In a rematch of Season 5's final, defending winners Manila Digger F.C. again edged out the Ghana-laden Manila Stars, 2-1 in penalties — reminiscent of the result of the championship from last July.
In Men's Division II, Lopsy F.C., Resenha F.C., Chronos Sporting Club, Manila Digger F.C., and Nemesis F.C. concluded the busy day with a logjam in the upper half of the table, as all wound up with 4-1 records after the match day.
Teddy Travis' Chronos blanked Dan Matsunaga's Resenha, 2-0 to snap the latter's four-game winning stretch, while Lopsy F.C. dealt Manila Digger a 4-2 loss.
In the top tier women's division, defending champion Kaya F.C. needed a lengthy penalty shootout to repulse Season 5 semifinalist Manila Digger F.C., 2-1.
After a scoreless deadlock in regulation, Nicole Ramores delivered the win in the shootout on the teams' fourth attempts, driving the ball past the Manila Digger keeper and into the bottom right corner.
Kaya's Shelah Mae Cadag and Manila Digger's Mea Bernal converted initially, but the latter team had two tries which both ricocheted off the goalpost, leaving room for coach Let Dimzon's side to pull off the win.
The Hans Smit-coached Azzurri Verde also made a good account of themselves on Week 5, dismantling the Manila Nomads, 5-2 to tie Kaya on top of the Women's Division I standings with a 4-1 record.
Action in the AIA 7's Football League will resume on Sunday, September 25.
Adams photo from AIA 7's Football League; Kaya F.C. photo from Kaya Futbol Club Facebook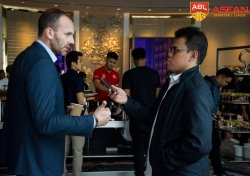 Latest posts by Levi Joshua Jr Verora
(see all)