By Henry L. Liao
Christmas is just around the corner.
Amidst the festive mood brought about by the Christmas holidays, my feelings are tempered by the demise of Lim Eng Beng, one of the greatest athletes in local basketball history during this time of merrymaking six years ago.

Lim, the legendary De La Salle Green Archers star in the early 1970s and one of the finest players in the professional Philippine Basketball Association, crossed the Great Divide on December 21, 2015 following a three-year battle with liver cancer. He was never into any vices, smoking or drinking (alcohol) and enjoyed a relatively healthy lifestyle. But God had other plans and took him away into His bosom at age 64.
This Hoopster was one of those privileged to have personally known Eng Beng. When I matriculated at the then-called De La Salle College, we somehow touched base as classmates during a Typing class. It was June 1972 – a memorable year considering it was months before martial law was declared in the country and the Green and White institution started to accept female students (ahem, only 10 made it that year).
Eng Beng was a sophomore at the time and I was a skinny freshman out of Xavier School. He sat directly in front of me during class as I watched him intently clicking on the old, battered typewriter with the aid of only four fingers – the index and middle finger of both hands. I often had a good laugh over it.
Eng Beng was simply amazing with the rock but one quality that distinctly distinguished him from other campus star athletes was his humility and low-profile demeanor.
Eng Beng hardly bragged about his hardcourt exploits. He never acted like a prima donna or a rock star in campus even if he actually deserved to enjoy the status, having powered La Salle to the National Collegiate Athletic Association (NCAA) men's basketball crown in 1971 as a rookie and in 1974 as a senior. (La Salle was 1.5 decades away from defecting to the rival University Athletic Association of the Philippines at the time).
Lim, who starred at Chiang Kai Shek College in his high school years, was one of the blue-chip prospects to enter college during his time – the other was Fortunato (Atoy) Co Jr., a product of Philippine Cultural High School (now Philippine Cultural College) who later hooked up with Mapua Institute of Technology in the NCAA in 1970.
Lim and Co had earlier produced one of the greatest rivalries – or shootouts – in the Philippine-Chinese Secondary Schools basketball competitions, the harbinger of what was later known as the Metro Manila Tiong Lian Basketball Association (MMTLBA), which itself was dissolved after the 2013 season due to recruitment-related issues.
Lim would steer CKSC past Co and PCHS in the finals of the 1970 Chinese-Filipino high school league even as Co copped the tournament's Most Valuable Player hardware.
The NCAA wars were another major battleground for Lim and Co. Co again emerged as the league's MVP in 1971 with the Mapua Cardinals but Lim romped away with the NCAA crown as a frosh with the Green Archers.
Before Lim Eng Beng arrived, there was elongated big man Kurt Bachmann, a dominant player for De La Salle in the mid-fifties while powering the Green to the National Collegiate Athletic Association (NCAA) men's basketball title in 1956.
After Eng Beng came topnotch players from different eras who earned the "King Archer" tag such as Zandro Limpot Jr., Mark Telan, Renren Ritualo, Joseph Yeo and Jeron Teng.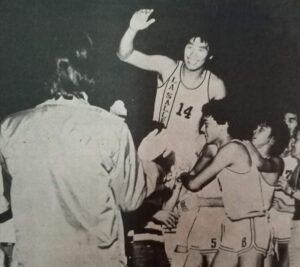 But none of them came close to the dominance of the bull-shouldered Eng Beng in a Green-and-White uniform during their respective University Athletic Association of the Philippines (UAAP) stints.
Lim undisputedly was the GOAT in La Salle cage history.
The 5-11 shooting guard won an NCAA championship with the Green Archers as a freshman in 1971. Another title ring came in 1974 in his final year of collegiate eligibility when he registered a pair of seniors scoring records that remains unchallenged to date.
Lim chalked up an all-time tournament high 55 points against Colegio de San Juan de Letran. He also drilled in 54 markers against patsy Trinity College (now known as Trinity University of Asia) for consecutive 50-point feasts. That effectively shattered the old mark of 52 established by Knights guard Ricky Pineda in 1969.
During the 1974 campaign, Lim averaged 30.9 points in 16 games – another NCAA record that still stands until now. That year, La Salle went 15-1 overall – its only loss, 72-71, coming at the hands of the Jose Rizal College Heavy Bombers on a game-winning bucket by Angelito Ladores.
La Salle swept the first round of the two-round competitions, itself in a three-way tie with Jose Rizal College and Ateneo de Manila for the second-round pennant with the defeat to the Heavy Bombers.
Both La Salle and Ateneo beat JRC to arrange a showdown for the second-round flag.
The Green Archers whipped their arch nemesis Ateneo for a third time in the tournanent to top the second round and win the 1974 NCAA crown.
In an interview more than three decades later, Eng Beng revealed that members of a gambling syndicate sought him to drop the championship game against the Blue Eagles in exchange for P50,000 – a humongous amount at the time. Of course, he turned down the bribe offer.
Lim's No. 14 jersey was eventually retired by La Salle and he went on to play professionally in the Philippine Basketball Association (PBA).
Lim suited up with Carrier (under his La Salle coach Valentin "Tito" Eduque), Universal Textiles, San Miguel Beer, Crispa and Manila Beer in 416 games and 12 PBA seasons (1975-84/1986), scattering 5,879 career points along the way for a 14.1 average.
Lim, whose career free throw percentage in the pro circuit was a nifty .792, subsequently was voted among the PBA's 40 all-time greatest players and inducted into the PBA Hall of Fame.
He was hired by his high school alma mater, Chiang Kai Shek College, as its head coach in 2005 and mentored a then-gangling big man by the name of Justin Chua, who won a Metro Manila Tiong Lian Basketball Association (MMTLBA) title two years later (under another CKSC alum and PBA product Sunny Co) and eventually became a member of five UAAP championship teams with the Ateneo Blue Eagles from 2008-12 before joining the pro league PBA.
I bumped into Lim several times during the 2000s and as late as October 2009 when he was still playing hoops with his CKSC batch in an alumni league at the school's tradition-steeped gym.
In 2005 or 2006, I personally gifted him several newspaper clippings of his La Salle exploits and a 2004 book titled "Legends and Heroes of Philippine Basketball" where the Tondo-born star was among the players honored with a one-page story on his distinguished roundball career.
Lim is already six years gone but cage fans continue to marvel over his immense contributions to Philippine basketball.
More than that, Lim was a gentleman of the first order, on and off the hardwood.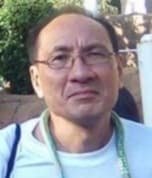 Latest posts by Henry Liao
(see all)