by Henry Liao
Collecting 50 points in one game may be one of the measurements of offensive wizardry, yet some of the legendary players in Philippine Basketball Association (PBA) history never reached the plateau during their illustrious careers.

Strange but true, all-time PBA greats Robert Vincent Salazar (Sonny) Jaworski, Ramon Fernandez, and Alvin Patrimonio, all of whom were once recipients of the Most Valuable Player hardware during their heyday, never tallied a 50 at any time.
Jaworski, a 6-foot-1 guard whose play epitomized the never-say-die spirit that defined the teams he later handled in pro coaching, chalked up his high of 34 with the famed Toyota franchise in 1980 at age 34 (although there were unconfirmed reports he had a 35 or 36 earlier in his career. Not for anything else, the PBA Annual did not list down the annual season highs of a player from 1975 to 1978).
Needles to say, however, the Big J was more known for his rugged and gung-ho defensive skills than his offensive prowess.
Jaworski, also monikered "The Living Legend" helped the Toyota Tamaraws win nine PBA conference championships in nine seasons with the Ricardo Silverio-owned franchise (from the league's inception in 1975 until the team's disbandment after the 1983 season).
The Baguio City-born son of a Polish-American father Theodore Vincent Jaworski and an Ilocano mother Iluminada Bautista Salazar was voted the PBA MVP during the 1978 season when he posted averages of a career-high 20.4 points, 10.2 rebounds, 8.2 assists, and 1.8 steals in 55 games and Toyota snared two of the three conference championships at stake – All-Filipino (1st) and Invitational (3rd).
Jaworski, the first Filipino playing coach in PBA history in 1985 with four more championships with the Ginebra San Miguel franchise, last saw action in Asia's first-ever pro league in March 1997 in a game held in Dumaguete City, making him the oldest player ever to suit up in a PBA game at age 51.
Jaworski won a Philippine Senate seat during the 1998 elections and served for six years (June 30, 1998-June 30, 2004). He turned 75 last March.
Fernandez, a gangling 6-foot-4.5 center, was a teammate of Jaworski during the Toyota era. Fondly called "El Presidente" for his elegant, silky-smooth offensive skills, Fernandez owned a career-high of 48 points with the Tamaraws in 1980.
The year that Jaworski earned his MVP award, Fernandez wound up as Toyota's season scoring leader with 20.6 points along with 9.7 rebounds in 54 appearances.
Like the Big J, he won nine title rings and a league MVP trophy in 1982 with Toyota.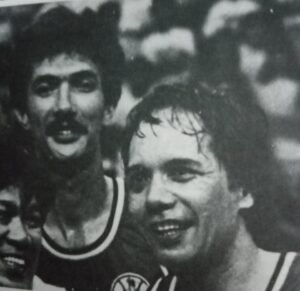 Following Toyota's disbandment, the Maasin, Southern Leyte native and product of the University of San Carlos hooked up with Beer Hausen in 1984 during which he captured a second MVP hardware with a career-high 27.8 scores, 11.2 boards, 9.9 assists, 1.55 steals, and 2.09 shot blocks in 64 outings.
It was probably the most dominant one-season individual performance in PBA annals with Fernandez, who netted 46 points at one time during the campaign, and was just five assists short of a triple-double average. However, he was unable to steer Beer Hausen to any conference championships, winding up with only fourth-, second-and third-place finishes (arranged in order of conferences).
Fernandez also would romp away with the PBA MVP honor with Tanduay in 1986 and Purefoods/San Miguel Beer in 1988 (getting 47 points with Purefoods in one game, one short of his career-high), becoming the only player ever to win four MVP trophies with four different franchises.
Fernandez, who hung up his jersey in 1994 after a league-record 19 PBA conference crowns, tried national politics during the 1995 mid-term elections but was soundly beaten in the senatorial polls.
He subsequently relocated to Cebu City and ventured into various businesses.
Five years ago on July 1, Fernandez, who turned 68 last October 3, was named one of the four commissioners of the Philippine Sports Commission under the current administration.
Like Fernandez, Patrimonio also collected four PBA MVP awards during his entire 17-year tenure (1988-2005) with the Purefoods franchise, accomplishing the feat in 1991, 1993, 1994, and 1997.
Known as "The Captain," the 6-3 forward chalked up a career-high 47 points with the Purefoods Hotdogs in 1991.
Following his player retirement, Patrimonio, who turns 55 on November 17, acted as the team manager of the Purefoods franchise under different banners – B-Meg Derby Ace, San Mig Coffee, and now, Star Hotshots.
Amazingly, Fernandez (first), Patrimonio (third) and Jaworski (ninth) continue to rank among the top 10 on the PBA's all-time scoring ladder until now even if neither of the three all-time greats registered a 50-point game during their remarkable careers.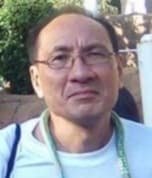 Latest posts by Henry Liao
(see all)