2,601 total views, 1 views today
by Henry L. Liao
Believe it or not, there have been a few instances in Philippine basketball history where a renowned athlete did not shoot the rock with his natural hand, meaning he grew up as a left-hander but subsequently turned to his right when playing ball.

One of the legendary left-to-right shooting greats was Fortunato (Atoy) Co Jr.
Co was a high school product of Philippine Cultural College. He became the King Cardinal during a three-year stint at Mapua Institute of Technology, gaining NCAA MVP honors in 1970 and 1971.
Co later starred in the Manila Industrial and Commercial Athletic Association (MICAA) and the professional league Philippine Basketball Association (PBA) with the famed Crispa Redmanizers.
Atoy, he of the "turnaround fadeaway jumper" fame, was a natural left-hander but became ambidextrous in basketball-playing because of an accident early in his life.
Growing up in Daet, Camarines Norte (I was there for a few days in 2003), the chinky-eyed Chinese mestizo broke a bone in his left hand at age seven and had no choice but to learn to shoot with his right.
"Siguro dahil sa pagkabali ng kaliwa kong kamay, hindi na ako maka-asinta sa kaliwa," recalled the 6-foot-1 Co, who was known for his shooting prowess during his heyday.

"Kaya nag-aral akong tumira sa kanan. Pero ang maganda roon, naging magaling ako sa parehong kamay."
Co would dribble with his left hand and shoot his turnaround fadeaway jumpers with his right.
Co wore the national colors in a pair of international stints. He top-scored for the PH team that snared the title during the 2nd Asian Youth Basketball Championship – now known as FIBA Asia Under-18 – in Manila in 1972 with a 17-point clip. He also competed in the 1974 Asian Games in Tehran, Iran.
Outside of basketball, Co, who turns 70 on October 15, still signs with his left hand until now.
Co's story reminds me of the LA Lakers' Russell Westbrook, the intense All-Star guard who topped the NBA in triple-doubles in three of the last four seasons.
The 6-foot-3, 32-year-old Long Beach, California native does everything with his left hand – sign autographs, brush his teeth and throw a football – except shoot a basketball.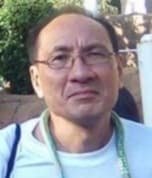 Latest posts by Henry Liao
(see all)