by Vince Juico
How many 78-year-olds do you know who are still alert and have full use of their faculties?
How many 78-year-olds out there are still teaching, coaching, and mentoring kids and young men to be future world champions someday?

I met one last Saturday and his name is Rene Barrientos. Around Cagayan de Oro City, he is known as "Champ."
"Champ" was one of my guests on my program, Sports For All, together with Cagayan de Oro City Mayor Oscar "Oca" Moreno, former professional boxing promoter Carlo Almirante, one of Cagayan de Oro's finest sports journalists, Mike Banos and, Rappler and Mindanao Gold Star Daily sportswriter, Lynde Salgados. We discussed Cagayan de Oro as a rising power in Philippine boxing, but that's for another conversation.
There were a lot of things I didn't know about this man before last Saturday's episode. He's never been knocked down. His back has never hit the canvas. He fought the late great Gabriel "Flash" Elorde and lost a tough decision. Barrientos also beat Carl Penalosa, if the last name sounds familiar, it is because he's the father of the fighting Penalosa brothers, Gerry and Dodie Boy.
I think "Champ" has never been knocked down because he avoided being trapped in the corners and on the ropes. He must've kept the fight in the middle of the ring. I'm guessing Champ has great footwork and lateral and head movement which made it difficult for him to hit. In boxing, the objective is to try to make your opponent miss then unleash some offense of your own.
According to Lynde Salgados, "For one, the former WBC super featherweight champion had never been floored or tasted the rugged canvas in his entire boxing career (1962-1978) marked with 39 wins, including 14 stoppages, seven defeats with one knockout loss, and two draws."
Barrientos usually ended his fights without a single mark on his face, but once again, Lynde Salgado writes, "In those days where a championship bout is fought for a lung-busting 15 rounds, losing to hometown brewing is common when fighting abroad ― which to explain his some losses ― and automatically a knockout when the fight ground to a halt after one of the fighters accidentally suffered a cut in the eye or from any serious injury."
According to sites.google.com, "It seemed like this southpaw was destined to be a runner-up his entire career, but the WBC's habit of stripping champions gave him an opening. Barrientos gained fans in losing a decision to the legendary Flash Elorde early in his career, and he handed streaking countryman Love Allotey a loss later that same year. He fought successfully for the next two years, moving up the ratings and traveling to Japan, Panama and Venezuela. In his first title bout, he was unlucky to draw with Hiroshi Kobayashi in Japan, and was rewarded with a second title shot when Kohayashi was stripped. He took advantage of that by defeating Californian Ruben Navarro, but lost the title in his first defense to Yoshiaki Numata."
In the Ruben Navarro fight, Rene, for some reason, vomited an hour before the contest, which helped because he beat Navarro and finally was runner-up no more as he became the new WBC Super Featherweight World Champion.
Like I said earlier, these days, the former boxing world champion oversees the training of amateur boxers in Cagayan de Oro City in the hopes of making more Rene Barrientos'.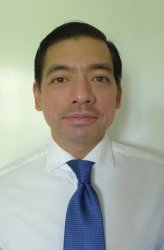 Latest posts by Vincent Juico
(see all)