By Brian Yalung
After a year of no competition, two local figure skaters are set to represent the Philippines in a couple of events set by the International Skating Union (ISU) Junior Grand Prix in August and September.

Set to represent the country in the first leg to be held in Courchevel, France is 18-year-old Skye Patenia. The inclusive dates of the tournament will be from Aug. 18 to 21.
The top skaters from each leg get to compete in the Junior World Championships that are set to take place in Japan at the end of the year.
In September, it will be 18-year-old Skye Chua's turn as she dons the Philippine colors to compete in the Krasnoyarsk, Russia leg from September 15 to 18.
When both ladies were asked which countries would be tough to compete against, they agreed that Russia, Japan and Korea are the ones to watch out for.
"The countries to watch out for will be Russia because they have outstanding technical skills. Aside from that I am also looking at Korean and Japanese skaters since they have good skating and performance skills," Patenia said in an exclusive interview with Sports Bytes Philippines.
As far as preparations with the pandemic still in the air, both girls admit that they tried to focus on other things to prepare for the upcoming competition. This includes strengthening the muscles especially the legs because these are something that they need in skating according to Chua.
"Practicing more on off ice jumps rotations since we don't get to skate on ice. Also, I have been currently doing my choreography programs off the ice just to recall the movement I have to do in the ice," Chua said.
Both Chua and Patenia have been forced to stay at home for some time now, raising questions on their mental preparation for the upcoming tournament. Both agree that this is important but are confident they can overcome this adversity.
"I believe in the saying that in order that you have to believe in yourself if you want others to believe in you. And if you don't believe in yourself, you are only half yourself," Patenia quipped.
"What I do is I like to visualize myself doing my jumps and programs and try my best to tell myself, in my head, that I can land and complete my jumps when I get back on the ice," Chua added.
The series features some of the up-and-coming Skaters of the world and provides young skaters aged 13 to 19 the opportunity to compete at a high international level.
A points system based on the ranking will be used to determine the qualifiers for the ISU Junior Grand Prix of the Figure Skating Final. Points are obtained according to the results of each event. Only the top six skaters in each discipline are eligible to qualify for the final.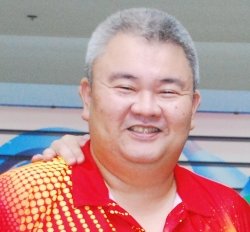 Latest posts by Brian Yalung
(see all)