by Vince Juico
It's been 11 years and 28 fights since Charles Oliveira joined the UFC, but all that changed on Saturday. He made the most of his title opportunity, his first and only one so far since entering the UFC in 2010 as a skinny 20 year old.

Oliveira knocked out Michael Chandler 19 seconds into the second round at UFC 262 at the Toyota Center in Houston to be the new undisputed UFC lightweight champion of the world. The title became vacant when the UFC made former champion Khabib Nurgamodemov's retirement official.
Charles is now in charge of the UFC lightweight division setting records along the way, according to espn.com, "Oliveira (31-8, 1 NC) has won nine in a row and is acclaimed as one of the best submission artists in MMA history. The Brazil native has the most submission victories ever in the UFC (14) and the most performance bonuses in promotion history (10). He now has the most finishes in UFC history (16). He is 10-1 since coming back to lightweight after a disastrous stint at featherweight."
Oliveira started his UFC career at 10-8 so he's undefeated in 21 fights without a title shot. Michael Chandler gets a shot at the strap only 8 months in the UFC. Go figure.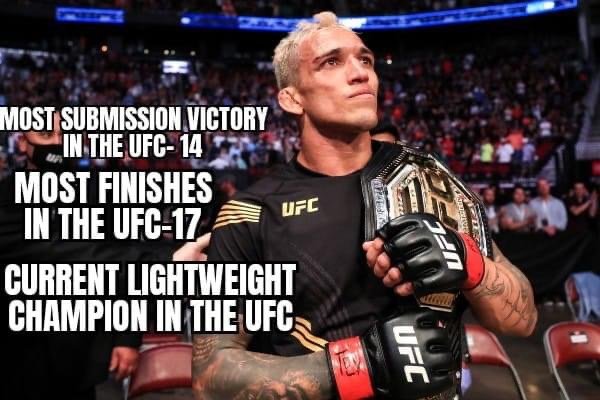 The ESPN article continues, "Oliveira, 31, is nicknamed "do Bronx" — essentially meaning "from the ghetto" in Portuguese — and has said he is proud he didn't need to leave his home in Guarujá to achieve MMA excellence. Now, he has a gold belt to take home with him."
What a story. It's a story of working hard and perseverance. On never giving up yourself.
In an ESPN article written by MMA writer Ariel Helwani, " Charles Oliveira's last defeat came in December 2017, a loss to Paul Felder via second-round TKO. That was his fourth loss in a six-fight stretch. He had missed weight four times in the previous five years and started his UFC career a pedestrian 10-8, with one no contest.
I asked Felder during an interview on Saturday, prior to UFC 262, if he would have believed me if I told him back in 2017 that Oliveira would not drop another fight since that loss and would eventually fight for a UFC title several years later.
Felder's immediate response: "No way."
Way, yes way, Charles Oliveira is on a 21 fight winning streak and is undefeated since the loss to Paul Felder 11 years ago. He's only 31 years old so we're not even sure if this man is already at the peak of his powers or is just getting there, scary thought for the rest of the lightweight division.
Helwani opines, "Oliveira was always a good fighter; you don't break the record for most submissions and finishes in UFC history without being skilled. But his weight-cutting issues and his momentary lapses of judgment always made us feel like he would remain a mid-tier lightweight or featherweight."
Oliveira's victory reminds us to never give up in all facets of our life.
"The win was Oliveira's ninth in a row. He now holds the record for most UFC fights (28) before winning UFC gold, breaking Michael Bisping's previous mark of 26, and Oliveira also possesses the record for most finishes in UFC history with 17. Oliveira's debut was 3,941 days ago on a network, Versus, that no longer exists. Now, he is the champion of the UFC's deepest weight class."
The lightweight division is, they say, the deepest and most glamorous in the UFC. You got Conor McGregor. You got Khabib Nurmagomedov's and GSP's shadows looming over the 155-pound division, and of course, the champion Oliveira.
"The best part is that Oliveira is still only 31. You get the sense he hasn't even come close to peaking and will be a force for some time. (Boy, would I love to see that Khabib Nurmagomedov fight, but I'm refusing to go there on this night.)" Helwani and MMA fans like this author, salivate at the small remote possibility of Oliveira defending his belt against arguably, the greatest UFC lightweight of all time, Khabib Nurmagomedov. Both guys are excellent both on the ground and stand up but it's never going to happen.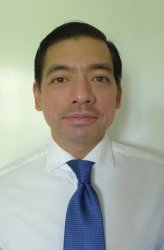 Latest posts by Vincent Juico
(see all)