by Vince Juico
Speaking to Owen Southgate during the May 8 episode of Sports for All, you get a sense as to why he is a UEFA licensed coach, tutor, and mentor. Southgate has been around the sport for a very long time. He's been coaching, tutoring, mentoring and shaping young football minds to be not just good football players and students of the game, but also good people capable of being productive members of society through sport.

As racism continues to ravage football, Southgate believes in the holistic development of young players starting with values formation. Football teaches the youth a lot of values like teamwork, hard work, sacrifice, discipline, humility, and patience. It is the job of UEFA coaches like Owen to cultivate the young football mind with the values as cornerstones.
In a 2019 Business World article on his working visit to Davao City written by Michael Murillo, Southgate says, "NYFA is delighted to work with FFH to bring football and youth development programs to Filipinos. I believe what we are doing with FFH brings football to another level, which is that of a change agent in society. Because we work with the youth, we are confident that we are all working towards creating a better, more enlightened society for the future," said Mr. Southgate, an English FA-certified tutor who also carries a UEFA-B license and founded NYFA in Sweden in 2018."
His coaching, teaching and mentoring style is to establish a relationship built on trust and confidence with young boys' and girls' footballers. Obviously, from the looks of it, Southgate's philosophy is more of a democracy than a dictatorship. These kids must know someone they can trust, someone who has their back. Unfortunately, there have been kids who only have Owen as their support system.
This author asked Southgate everything from racism in football to England's and Sweden's chances at Euro2021. There are high expectations for England because it has been a team in the making in the last 10 years so hopefully, the English side will peak just in time for Euro2021. Sweden, in Zlatan-speak, is Zlatan and Zlatan is Sweden.
In the war against racism at the youth level, Southgate explains that part of the holistic development of young players is getting the parents involved and educating them about racism.
On the Super League, Owen explains that football isn't just a sport, but it is also a business. The number one goal of business is to make a profit. Obviously, ongoing conversations and negotiations with UEFA came to a head, hence, 12 of Europe's most influential teams decided to form their own "UCL", to the chagrin of UEFA.
Southgate described with great joy, enthusiasm and fulfillment, his visit to the Philippines in 2019 upon the invitation of Football for Humanity Founder Chris Thomas. Owen narrates that he established many working relationships in the country, and he opines that Filipinos can excel in the sport of football at the highest level.
If there's an opportunity to help in the promotion and development of football here in the country, Mr. Southgate says he'd consider it, but that would have to be a serious discussion with his wife, as they just moved to Sweden.
Philippine football needs all the help it can get along with any opportunity to get a shot in the arm, especially from a UEFA football mind like Owen's.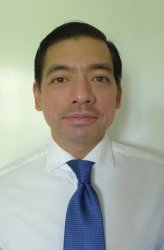 Latest posts by Vincent Juico
(see all)