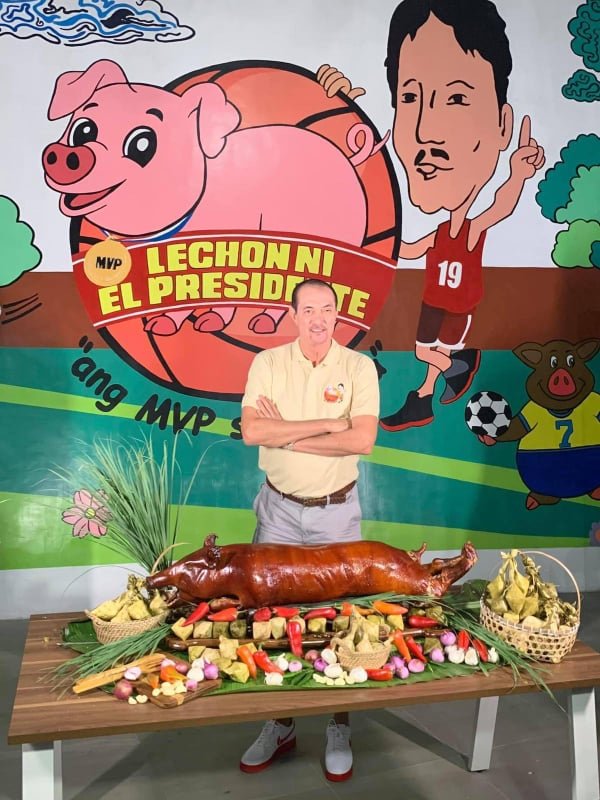 by Henry Liao
Nobody has asked me, not even my wife, but my vote for the GOAT player in the 46-year history of the Philippine Basketball Association goes to Ramon Fernandez with his multi-dimensional skills and elegant artistry.

One can always go back to the 1984 Philippine Basketball Association (PBA) season when "El Presidente" was a dominant force for his team that he nearly averaged a triple-double for the season. Then there was Fernandez's 19-title harvest in a 20-year tenure that will never be equaled.
It's just a shame that he was not on the list of the recent inductees to the Philippine Sports Hall of Fame. It seemed there was something that more than meets the eye. And the reason could have been a word that starts with a "P."
Anyway, here's my narrative on the 67-year-old Mon Fernandez, who has been serving as a commissioner in the government-established Philippine Sports Commission since July 2016.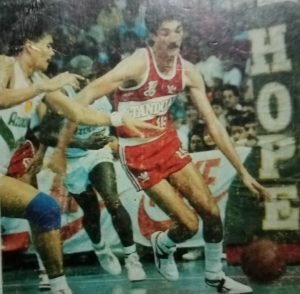 The basketball statistic "assists" is usually associated with point guards or maybe forwards with outstanding passing skills.
That's why it was rare for a center from the past to lead a professional league in assists for his job in the past was to dominate the glass or act as their rim protector.
Of course, things are different now as the world has shifted to position-less basketball so much so a multi-faceted center like Nikola Jokic could lead the National Basketball Association (NBA) in assists as the Denver Nuggets All-Star from Serbia did in the early goings of the current 2020-21 wars.
In NBA history, there has been only one instance where a center topped the assists charts during a season. In 1967-68, Wilt Chamberlain of the Philadelphia 76ers chalked up a league-high 702 assists in 82 games. Oscar Robertson of the Cincinnati Royals came in second with 633 feeds in 65 games even if his 9.7 average was better than Wilt's 8.6. At the time, the NBA ruled its assists champion based on total count and not averages. (In 1969-70, the NBA started to crown its assists leader based on averages.)
Since the Philippine Basketball Association first saw the light of day in April 1975, there have been only three cases where a homegrown center had paced Asia's first professional league in assists.
Danny Ildefonso accomplished the feat with the San Miguel Beer during the 2001 season with 317 dimes in 70 appearances for a 4.5 clip.
That pales in comparison to "El Presidente" Ramon Fernandez, he of the elegant, silky-smooth moves.
Known as "Tito" to his close friends, the gangling 6-foot-4.5 Fernandez turned in the trick twice. The first came in 1982 with the Toyota Tamaraws. That season, he dished out 346 assists in 67 outings for a 5.2 average.
Two years later in 1984 (following the disbandment of Toyota after its arch-nemesis Crispa swept all three conferences in 1983 under coach Tommy Manotoc for its second grand-slam), Fernandez again was No. 1 in the PBA in assists, registering 635 dimes in 64 games with Beer Hausen. To date, his 9.9 season clip remains the highest ever for a Filipino player, homegrown or not. (For the record, Fil-Am guard Ricardo Brown ranks second all-time with a 9.1 average (591 over 65 games) with Great Taste Coffee during the 1985 wars.)
To most historians, Fernandez's all-around performance with the Beer Hausen Brewmasters in Season 1984 was the greatest ever by a homegrown player in PBA history.
That year, the graceful native of Maasin, Leyte normed 27.8 points (fifth in the PBA), 9.9 assists, 11.2 rebounds (fourth), 2.09 blocked shots and 1.53 steals (third) in showing up for 64 of his club's 66 assignments (35-31 win-loss record) and averaging 40.8 minutes every time out.
Fernandez went .525 (704-for-1340) from the field and .808 (371-for-459) from the free-throw line.
At 635, Fernandez was just five assists short of a never-been-done-until-now triple-double average.
Overall, the University of San Carlos product notched 25 triple-double games during the 1984 season – which until now remains the all-time season mark by a local or foreign player in PBA history.
That same campaign, Mon registered a 44-point triple-double game, the only Filipino (homegrown or otherwise) in PBA annals to achieve the feat.
He also chalked up 46 points – just two short of his career-high with Toyota in 1980.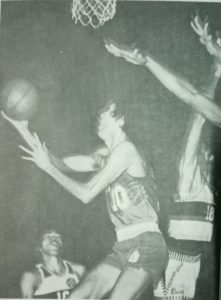 The most memorable of his triple-double exploits came on October 25, 1984 when he racked up 44 points, plucked down 17 rebounds and handed out 17 assists in Beer Hausen's 122-117 overtime victory over Northern Consolidated in a knockout game to advance to the finals of the second of two All-Filipino conferences that year against eventual titlist Great Taste (3-0). It was Fernandez's 24th T-D of the season. (The league avoided an import-laced conference in 1984 to save on precious dollars that were hurriedly flown out of the country in the aftermath of the assassination of Benigno Aquino Jr. in August 1983).
No other player has ever come close to a T-D of at least 40 points, 15 rebounds and 15 assists.
Earlier, on March 27, 1984, Fernandez also notched a T-D with 19 points, 17 boards and 17 assists as Beer Hausen defeated Robert Jaworski and Gilbey's Gin, 105-97, in the first meeting between the two former Toyota teammates.
It was Fernandez's first T-D of the 1984 PBA season.
That year, Fernandez deservedly romped away with the second of his four Most Valuable Player hardware. To date, he shares second place on the all-time list of most number of MVP awards with Alvin (The Captain) Patrimonio. June Mar Fajardo is the runaway frontrunner with six straight MVPs with San Miguel Beer from 2013-14 to 2018-19.
It could well have been five MVP trophies for Mon if not for some hanky-panky that happened during the 1979 MVP balloting.
Fernandez's team at the time, the Toyota Tamaraws, reached the finals in all three conferences and even captured the Invitational (third conference) under the batonship of the late Fortunato Acuna.
Due to the team's accomplishments, Fernandez expectedly was way ahead of eventual champion Fortunato (Atoy) Co Jr. of All-Filipino champion Crispa in the MVP statistical department.
However, there were still the media votes to be counted for his formal ascension to the MVP throne. Unfortunately, the awaited coronation never came for what most Toyota fans described as a "highway robbery."
Fernandez was shut out in the media balloting after Crispa team owner Valeriano (Danny) Floro, well known for his generosity with media people, allegedly wined and dined the sports editors of the leading national daily newspapers on the eve of their turn to vote.
Viola, Co was declared the winner with plenty to spare. For Fernandez, it would have been his first MVP award. He later came to know what actually hit him through the grapevine.
The controversy may be water under the bridge but it is worth telling even after more than four decades have passed.
Three years after the fiasco, Fernandez finally gained his first MVP award in 1982 with the Tamaraws.
Fernandez would do so three more times thereafter. Aside from Beer Hausen in 1984, he also bagged the MVP diadem with Tanduay in 1986 and, in a split season with Purefoods (losing finalist in the first two conferences, Open and All-Filipino) and San Miguel Beer (champion in the third conference Reinforced), in 1988.
In one game in the All-Filipino conference, Fernandez racked up 47 points for Purefoods Hotdog – one shy of his career-high of 48 set in 1980 with Toyota.
Fernandez lasted just two conferences with Purefoods in 1988. He was shipped to San Miguel Beer before the Reinforced (third and last) conference on some unfounded suspicion. His old Crispa nemesis Alberto (Abet) Guidaben, who at the time of the exchange was leading the MVP race and seeking a third hardware, went to Purefoods. It marked the second time in their respective PBA careers that the two top-notch bigs were traded for each other.
Eventually, the MVP honor that year went to Fernandez as SMB bagged the Reinforced crown.
While Fajardo owns six MVP awards, all of them with the Beermen, Fernandez remains the lone awardee to turn in the trick with four franchises.
Surprisingly, Fernandez never reached the 50-point plateau during his decorated 20-year PBA career from 1975-94.
He did score 40 points or more on seven occasions – at least once with all the five franchises, he suited up for.
Fernandez netted a season-high 44 markers in Toyota's farewell campaign in 1983. He also registered season highs of 45 and 40 points with Tanduay Rhum in 1986 and 1987, respectively, and 41 with San Miguel Beer in 1991.
Fernandez called it quits at age 41 in 1994 in preparation for his Senate bid in the 1995 Philippine elections. He finished with career averages of 17.7 points, 8.1 rebounds and 4.9 assists in 1,074 games.
In total figures, Fernandez ranks among the two in five statistical categories in PBA history until now. He is first in scoring (18,996), rebounds (8,652) and blocked shots (1,853) and second in assists (5,220) and steals (1,302).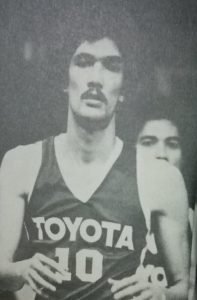 Mon was named to the all-PBA First Team on a league-high 13 occasions – 1976, 1977, 1978, 1979, 1980, 1981, 1982, 1984, 1986, 1988, 1989, 1991 and 1992. Additionally, he earned a second-team berth in 1985 (Manila Beer), 1987 (Tanduay) and 1990 (San Miguel Beer).
More importantly, Fernandez won 19 PBA conference championships – the most by any player in league history. The first nine came during his partnership with Jaworski at Toyota. Seven came with San Miguel Beer, including a grand slam in 1989, and three were secured with Tanduay in 1986 (two) and 1987.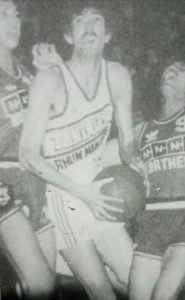 Internationally, Fernandez donned the Philippine colors on five occasions. He debuted with the national team that topped the 18-and-under 2nd Asian Youth Basketball Championship in Manila in 1972.
At the seniors level, he saw action with the Nats that grabbed the title during the 1973 Asian Basketball Confederation (ABC) competitions (now known as the FIBA Asia Cup) held in Manila, 1974 World Basketball Championship (now known as the FIBA World Cup) in San Juan, Puerto Rico, 1974 Asian Games in Tehran, Iran, and the 1990 Beijing Asian Games where the Philippines fielded an all-pro team for the first time ever and finished second behind host China under the mentorship of Jaworski.
Fernandez would have been a shoo-in for the 1994 Hiroshima Asian Games but he gave his slot to prepare for the national elections in May 1995.
Fernandez was triumphant on the basketball floor, and though he failed in the political arena, he has since moved on to take a government position dealing in sports and make hay in business with his "Lechon ni El Presidente" in his native Cebu City. "Roasting facility is in Consolacion, Cebu, Door-to-door delivery can be arranged," Mon told me through a text message.

Indeed, there's life after basketball for Fernandez.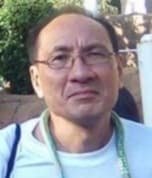 Latest posts by Henry Liao
(see all)