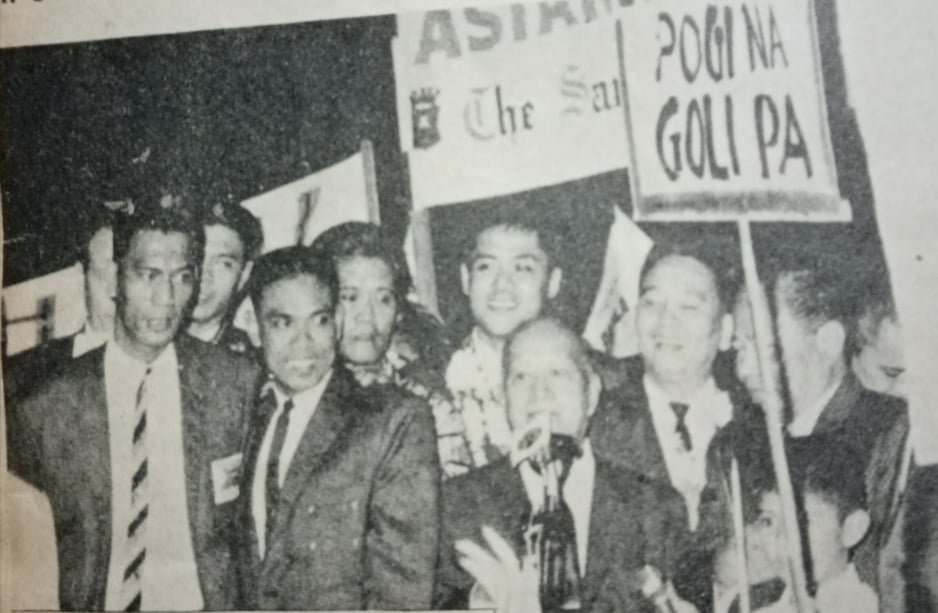 by Henry Liao
Carlos (Caloy) Loyzaga, arguably the greatest athlete in Philippine basketball history, owned a Midas touch.
In any Asian basketball competitions that he was a part of, whether as a player in the 1950s and 1960s or as a coach following his retirement in 1964 at age 34, everything turned into gold.

As a player for 15 years, the pigeon-chested, do-everything Loyzaga gained the gold medal in all of his six appearances. It happened four consecutive times during the Asian Games (four) and twice in the Asian Basketball Confederation (ABC) tournament (the precursor of the FIBA Asia Championship and now FIBA Asia Cup).
Asian Games (win-loss records in parentheses): 1951 New Delhi, India (4-0), 1954 Manila, Philippines (6-0), 1958 Tokyo, Japan (6-1) and 1961 Jakarta, Indonesia (7-0).
ABC: 1960 Manila, Philippines (9-0) and 1963 Taipei, Taiwan (9-2).
Overall, the crowd-drawing, good-looking Loyzaga posted an eye-popping 41-3 record, or a .932 winning clip, with four tournament sweeps.
A year after hanging up his jersey, the all-time National Collegiate Athletic Association (NCAA) great from San Beda College turned to collegiate and commercial-league coaching.
Loyzaga piloted the University of Santo Tomas Glowing Goldies (then bannered by an up-and-coming star in Danilo Florencio) in the University Athletic Association of the Philippines (UAAP) while also holding the mentoring ranks with his old commercial club, the Yco Painters, for whom he further led to greater heights with one championship after another.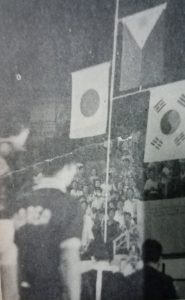 In 1967, Loyzaga was named head coach of the Philippine team to the 4th ABC festivities in Seoul, South Korea. Again, he struck water, steering the Nats to a perfect 9-0 record with an average winning margin of 29.9 points every time out.
Six years later, the all-time National Collegiate Athletic Association (NCAA) great from San Beda College was named an assistant coach to bench boss Valentin (Tito) Eduque on the PH team to the 7th ABC tournament held in Manila.
Once more, Caloy was a part of the victorious PH unit as the Filipinos finished with an immaculate 10-0 record. But that's another feel-good narrative that is worth retelling in a future column.
***
In this piece, we pay homage to the Philippine team that bagged the gold medal in the 1967 ABC tournament in Seoul Korea.
It was October 1, 1967, a Sunday, when it all happened. It also was a physical game, all right.
Two years before that, the Nats have surrendered their crown to Japan, having dropped a 71-65 verdict to the Japanese in the championship round after easily beating them, 74-54, in the preliminary phase. (The Philippines settled for the silver.)
Redemption, therefore, was a motivation for the Filipinos when they landed in Korea. But how you beat the Sokors on their home floor?
Well, our boys did. Loyzaga, who had gotten the national coaching stint after steering Yco to the prestigious National Senior (Open) basketball tournament earlier in the year, put together a cohesive, well-disciplined roster of 12 players dubbed "The Dirty Dozen," which was actually named after the title of a war movie that was a box-office hit in 1967.
The players: Orlando Bauzon, Narcisco Bernardo, Danilo Florencio, Robert (Sonny) Jaworski, Jaime Mariano, Rogelio (Tembong) Melencio, Edgardo Ocampo, Adriano Papa Jr., Renato (Sonny) Reyes, Alberto (Big Boy) Reynoso (team skipper), Joaquin (Jake) Rojas Jr., and Edgardo Roque.
Eight of the 12 men were members of the disastrous 1965 ABC contingent, namely, Bernardo (the team captain), Bauzon, Mariano, Ocampo, Reyes, Reynoso, Rojas Jr., and Roque.
The four "newcomers" on the 1967 team were Jaworski and Florencio, both of whom were coming off a co-UAAP championship campaign with UE and UST, respectively; Melencio and Papa Jr., a 1966 Bangkok Asian Games veteran.
Ten countries took part in the 1967 ABC festivities that had a round-robin format (nine games per team) with no playoffs.
The Philippines and South Korea rolled into the championship game both unscathed at 8-0.
Our boys defeated Indonesia, 103-67; Malaysia, 92-55; India, 111-63; Japan, 81-69; Singapore, 107-58; Republic of China (now Taiwan), 83-79; Hong Kong, 103-52; and Thailand, 95-66.
The Sokors also won all of their first eight assignments, including a 63-62 squeaker over Japan that effectively took the Japanese out of their title-retention bid. (Japan, 7-2, finished third.)
Thus it came down to the titular match where it's said no team wins in Korea except the Koreans.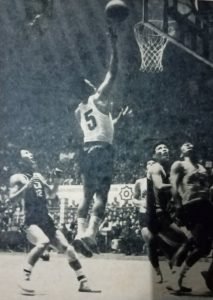 Employing a zone defense, Korea got off to a quick start, enjoying a 15-2 lead in the first five minutes before the Filipinos narrowed the gap, 23-18, after the first quarter. Behind the guns of Bernardo and Bauzon, they roared back to grab the upper hand, 27-26, for the first time in the 12th minute before settling for a 41-38 advantage at halftime.
The Philippines, which countered with a switching man-to-man that eventually cost the team 41 fouls, grabbed a 58-47 edge in the third frame when Papa, assisted by Mariano and Roque, exploded for 12 markers in a five-minute stretch. However, the rugged, spirited Koreans, powered by a legendary shooter by the name of Shin Dong-pa, were not done yet, keeping the Nats at bay till the final seconds by applying a pressing defense that caught them off-guard most of the time.
The Koreans were within a point at 62-61. They trailed, 73-65, but closed in at 75-71 with five minutes remaining. Down by only a solitary point, 79-78, on the drives of Kim In-kun and Ha Ui-keon, and the momentum shifting to their side, the Sokors, who committed only 30 fouls, looked to turn the game around in the final minute.
It was not to be. A Filipino player that had been kept on the bench before the final minute did Korea in.
Florencio, a high-leaping 5-10 forward-guard with acrobatic moves, was finally fielded in by Loyzaga on the prodding of team assistant coach and one-time Olympian Gabriel Fajardo (1948 London Games) without any specific instructions from the bench. The surprising move came after six of our players had fouled out in the last quarter, including Ocampo, who made life hard for the all-time Korean great Shin with his leech-like defense, limiting him to just 10 points.
Other Filipinos who graduated with five fouls were Melencio, Rojas, Jaworski, Roque and Bauzon.
A seventh player – Reyes – was hobbled by a bad back.
Though Reyes was in uniform, Caloy went past him and gambled on a second-year national teamer Florencio (1966 Asian Games vet), whom he had known to be a cold-blooded, explosive shooter during their UST days in 1965 and 1966 as well as his time with Yco in the commercial ranks.
Loyzaga's gambit paid off and it played a major role in the Philippines' march to victory.
With the Philippines ahead, 79-78, and time down to 48 seconds, Florencio calmly buried a "freak" 15-foot turnaround jumper, which an Associated Press report described as a "shot that hit the ring and hesitatingly sank through the basket."
TV coverage showed the ball doing a "fascinating jig" around the basket before dropping in.
A stunned Korean crowd stood in silence. There was no three-point shot yet at the time and the home team needed in a jiffy some assistance from the hoop gods by way of an offensive conversion and/or a defensive stop.
Sokor guard Lee Im-pyo, fouled by Melencio, subsequently made two free throws to slice his team's deficit to one, 81-80, time down to 20 ticks.
With the rock in his hands once more in the Filipinos' next possession, Florencio darted towards the basket with a drive. He navigated past several defenders, the last of which was Kim In-kun, who had crossed his path looking for an offensive foul after getting into contact with the Florencio.
There were fears of a "hometown" call but the two referees, Canadian Gordon Allan Rae and Uruguayan Mario Hopenhaym stood their ground and slapped Kim with a foul. Officiating was strict and resulted in numerous charging fouls called on both sides.
With a hostile crowd of 12,000 attempting to unnerve him with some thunderous boo-ing, Florencio, likened to American author and journalist Ernest Hemingway's description of courage as "grace under pressure," coolly canned a pair of charity shots to seal the game, 83-80, for the Filipinos.
To cap his late-game heroics, Florencio plucked down a rebound after a Korean miss with 15 seconds remaining. He then sprinted towards the other side of the floor until the game buzzer sounded.
Following the win, Florencio's teammates rushed to the floor to mob and toss him in the air. Four points in the last 48 seconds – they were game's winning points that spurred Loyzaga to call Florencio "my secret weapon."
"Our boys were united in one cause," said Loyzaga, "and that was to regain the crown they lost two years ago in the third ABC in Kuala Lumpur."
Another factor in the title victory was the Philippines' dominance off the boards, outrebounding the Koreans, 41-24, in the game (17-9 at the break). Twenty-three of those caroms came from Bernardo, Mariano, Melencio and Reynoso combined.
For the record, Bernardo topped the Filipinos with 23 points, 16 of them during the Filipinos' rally in the first half.
Three other players posted double-digit scores – Papa, 13; Bauzon, 12; and Jaworski, 12.
The 1967 ABC success, which was the country's first title finish in the post-Loyzaga (playing) era, earned the Filipinos a ticket to the 1968 Mexico Olympics.
Coached by Loyzaga once more, 10 of the gallant men from the ABC squad also made it to the Mexico Games except for Bernardo and Roque, who were replaced by Yco veteran Elias Tolentino Jr. and ex-Ysmael Steel standout Alfonso (Boy) Marquez.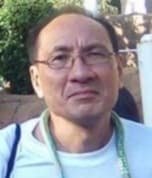 Latest posts by Henry Liao
(see all)