by Andy Fiel
When the smoke cleared, Abanse Negrense (A) proved that their superior beach skills would be their key heading towards the final game of the 2021 Gatorade PSL Beach Volleyball Challenge Cup.
Alexa Polidario and Erjane Magdato leaned on their guile and creativity to pull off a two-set win over a gutsy Sta. Lucia side to bag the 2021 Challenge Cup title.
Midway through the first set Alexa Polidario (Abanse Negrense A) had already given away 4 points off attack errors while Demontano and Estoquia (Sta. Lucia A) coughed up 4 points of their own from offensive miscues.
Still, Abanse Negrense had a three-point lead (12-9) going into the technical timeout of the first set.
From the break Estoquia and Demontano strung up three points, largely due to unforced errors by the Negrenses, and drew level at twelve.
The tie would not last as Polidario's power hits and Magdato's effective use of angles pushed the lead higher, eventually finishing the set at 21-15.
The next set Sta. Lucia started strong with DM Demontano sending the ball over twice to get a slim 2-0 lead.
The game was close with neither team leading by a few points and drew even at 13 after a furious back and forth.
The turning point of the match came after Estoquia served the ball to Polidario with the score notched at 16-15 in favor of the Negrenses.
Polidario, who dominated offensively for most of the match, saw the opportunity and pounded the ball over.
At that point Sta. Lucia's defense went porous as the Abanse Negrense duo pounced with three unanswered attacks at the net, leading to a 21-17 second set win and the sweet championship medal.
All players, coaches, and team representatives were present at the awarding ceremonies after the match.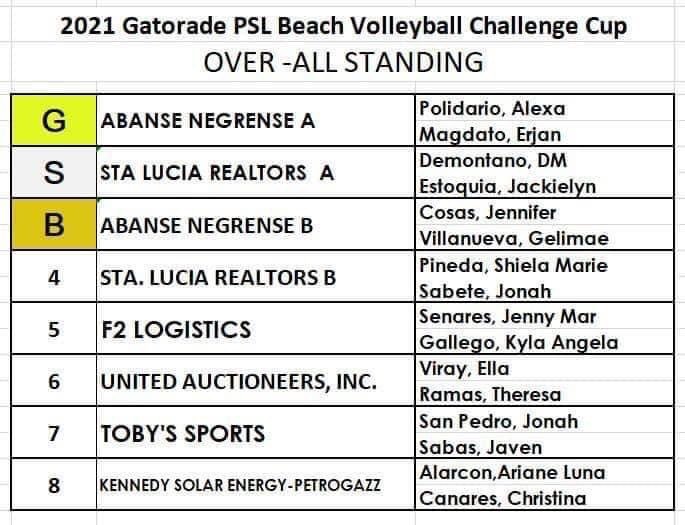 Latest posts by Andy Fiel
(see all)