After a whirlwind 2023 that catapulted Ernest John Obiena to world no. 2, a silver in the World Athletics Championships, a seat in the Paris Olympics and a record-smashing Asian Games' gold, the Filipino superstar pole vaulter has earned the right to rest.

"Oh I'm resting," Obiena said after his record-smashing, history-making performance at the Hangzhou Olympic Sports Centre Stadium, where he delivered the Philippines' first and so far only gold in the 19th Asian Games on Saturday night, September 30.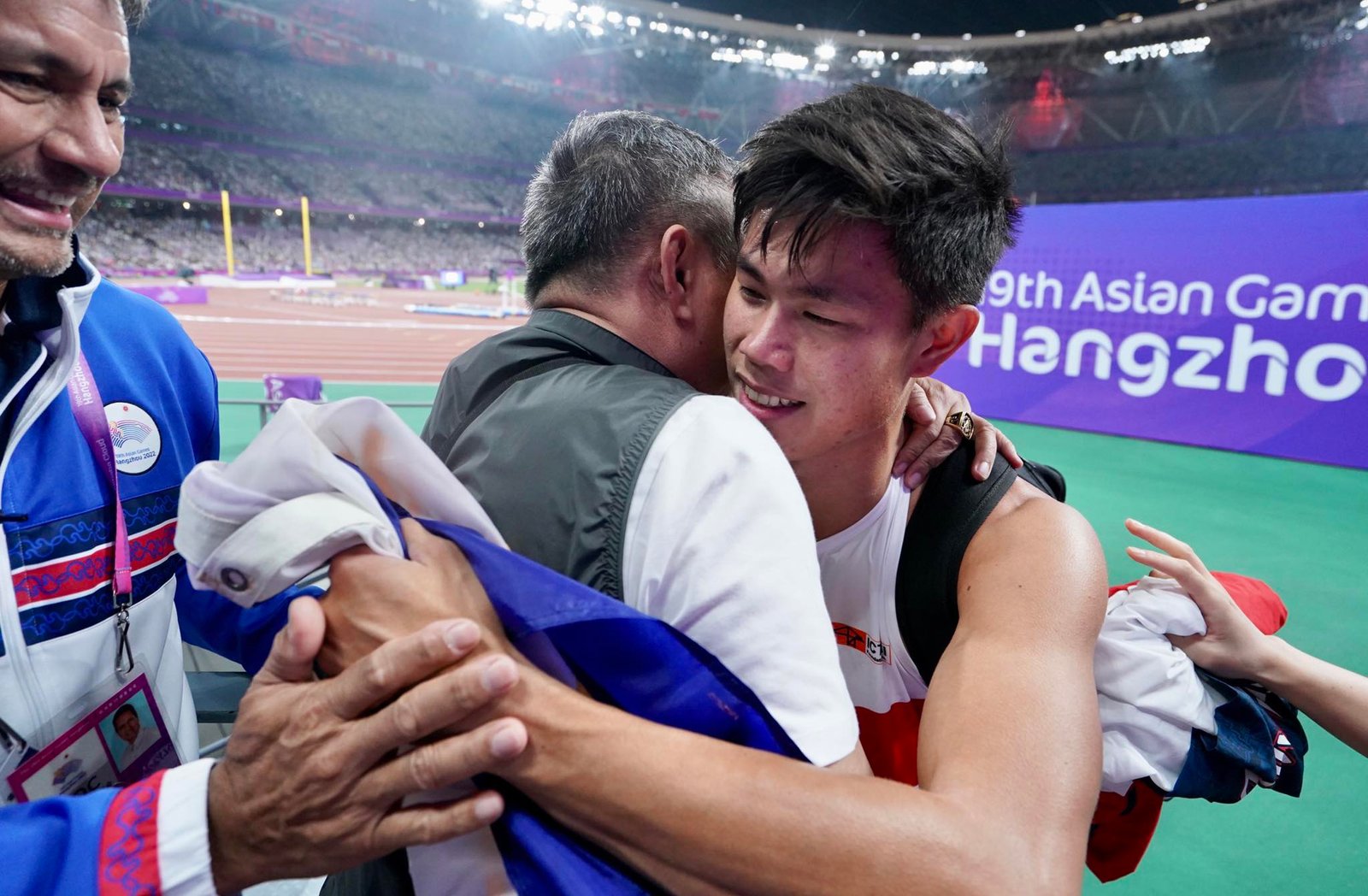 When asked if he's preparing for the Paris Olympics after the games, Obiena aired his determination to rest. "I'm not thinking about it (Olympics) now."
The 27-year-old Obiena captured the pole vault gold with his record leap of 5.75 meters, which he further smashed at 5.9. He tried to break his own 6.0 meters by setting the bar to 6.02 as a gift to his coach Vitaly Petrov, but couldn't pull it off in three tries.
Nevertheless, Obiena has accomplished his goal of winning an Asian Games' gold, the Philippines' first in athletics in 37 years since Lydia de Vega's 100-meter conquest in the Seoul Asiad, and the first athletics' medal of any color in 29 years since Elma Muros' bronze feat in the long jump competitions of the 1994 Hiroshima games
"I'm very happy that he pulled through. I can imagine the pressure on EJ because of all the expectations, but he pulled through. It seemed like a routine for him and it's a good routine. Parang nagiging mindset na niya to win every tournament he joins," PH Athletics' president Terry Capistrano said.
"And that's very good, let him rest for now and then after Christmas we can start thinking of Paris. Again, congratulations to all of us. Hindi naman ako ang tumalon, but I'm very happy. And this is not just about athletics, it's for our campaign here in general. I hope we win more medals in the other sports. Sana madagdagan pa ang gold natin or the silver or the bronze," Capistrano added.
Obiena joined the exclusive 6-meters' club at the Sparebanken Vest Bergen Jump Challenge in Norway on June 10, 2023. A month later, Obiena became the first Filipino to qualify in the 2024 Olympics after clearing the Olympic standard of 5.82 meters at the Bauhaus Galan in Stockholm, Sweden.
Other highlights of Obiena's busy 2023 include a title in the Cambodia SEA Games; the Müller Indoor Grand Prix Birmingham crown with his 5.82 meters; the Orlen Copernicus Cup Torun gold with his 5.91 meters; the World Athletics Championships, where he bagged the silver medal with a clearance of 5.94 meters; and the European Athletics Championships, where he finished fourth in the final, clearing 5.85 meters.