By Dennis U. Eroa
Joe Antonio, a beautiful human being, breathed his last Wednesday evening, September 21, leaving behind a treasured haul of memories among the men and women of the sports writing business.

The highly-respected sports editor of the People's Journal and a pillar of the Philippine Sportswriters Association (PSA) died at the age of 69 but his tough guy looks and soft, accommodating heart will not be forgotten by those lucky enough to rub shoulders with him.
Judging from the sad but overflowing tributes from the young once and young ones, Sir Joe died a loved man because of his integrity and his knack for helping others hone their craft while guiding the association to help financially-challenged members.
The proud son of Cabiao, Nueva Ecija left behind his wife Lita and only son Steve Ovett, named after the great British Middle distance runner. Steve Ovett married Princes Anne and the union produced Anthony James and Andre Stephen. While he touched the lives of countless readers with his stories, Antonio's proudest achievement was raising a happy and secure family.
In one of our conversations overflowing with mundane and serious topics, I remember him saying that he cried a river of tears during the marriage of Steve Ovett but the arrival of grandsons Anthony and Andre added joy and excitement to his life.
A craftsman, Antonio, unlike other senior sports editors was not only approachable but willing to take the backseat. Despite his stature, Antonio hated the spotlight and would rather focus on the Journal's bombastic and captivating headlines.
Antonio excelled in covering the Olympics, Asian Games, and Southeast Asian Games and young scribes should go to the archives and read his coverage of the Marlboro Tour of Luzon. I was told by oldtimers that Antonio became a gracious host whenever the summer spectacle rode into Cabiao.
Also dubbed as sports writing's Daniel Barrion, a character during the 60s by movie icon Fernando Poe Jr., Antonio was an invaluable asset to People's Journal which was headed by another sport writing guru, Gus Villanueva. He handled the post of sports editor with enthusiasm for more than three decades and was in the front seat to witness the downfall and glory days of Philippine sports.
He shared his wisdom to young sportswriters namely Eduardo "Doods" Catacutan, Gerardo "Gerry" Ramos, Gabby Alvarado and Arman Carandang while also serving as an adviser to Ed Andaya, who edits People's Tonight.
"Sportswriters will keep living with this giant hole in our hearts, left behind by this kind, fun, self effacing and thoughtful man, and brilliant writer who made Philippine sports and sports writing a wonderful place for all of us," wrote Catacutan in his tribute.
Catacutan, rose to become the editor of Spin.ph with Ramos as a senior reporter; Alvarado, a mini-version of award-winning Hollywood actor Stanley Tucci continues to sizzle in Hong Kong, while Carandang, dubbed as Judge for his talent to hand out sentences to erring scribes, decided to lay low to focus on his family.
Ramos describes Antonio as his mentor, father figure and friend. "God Bless your soul, Sir Joe," wrote Ramos.
Manolo Pedralvez said Antonio was responsible for paving the way for him to join the hard-to-crack and earn the respect of the fraternity of sportswriters.
Antonio belonged to the distinguished line of sports editors produced by The Dawn, the official weekly college newspaper of the University of the East. Editors Ding Marcelo, Philip Evardone, Rey Bancod and Jimmy Cantor followed by our group composed of your's truly, current Philippine Sportswriters Association president Rey Lachica and Jun Lomibao. Antonio was particularly close to another distinguished Dawner Chito Manuel, who spent years overseas editing Riyadh Daily, an English newspaper in the Kingdom of Saudi Arabia and the well-known Arab News.
Manuel, now retired, said the "suddenness of Joe's departure is what hurts as it was shocking. We're going to have coffee with Ding. But now, I've lost a treasured friend and kumpadre, a brother too, a venerable pillar in Philippine sports writing. who takes pride in our 10-0 blast generation," wrote Manuel upon learning of the news of Antonio's passing from Lachica.
"Farewell, my friend. Sleep tight in the bosom of the Lord. Thanks for the friendship and laughter."
When I got sick, Sir Joe was the first to check my condition and give me financial help courtesy of our association. Yes, Sir Joe aka Daniel Barrion, lived a full life. And I believe that he always told the truth with tender loving care to avoid hurting others. He's a beautiful man and will be sorely missed.
The interment will be on Sunday, September 25 at the Forest Memorial in Quezon City.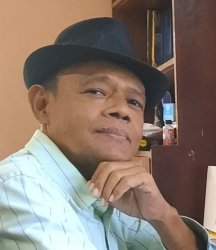 Latest posts by Dennis Eroa
(see all)