By Henry L. Liao
Yesterday when I was young was one of the happiest moments in my life.
Care-free my life was as a youngster (up until I came out of high school in 1972).

Life was a breeze, not because I was a spoiled brat, but rather because my parents from the middle class got me all the things I need to have – emphasis on "need" – and not what I wanted.
The life I lived then was simple but enjoyable for all I did was study well in school and play basketball after class hours or during the weekend (Saturday mornings or Sunday afternoons) at the Xavier School covered courts.
At age eight, I was already into "heavy" reading – not only from the school materials but also from the daily newspapers (the old Manila Times and the Evening News were my favorites) and sports-related books and magazines of the local and foreign varieties.
No small wonder my vision was somehow affected and I started to wear eyeglasses at that tender age, too.
I also took up basketball as early as age eight, dreaming of becoming a school, if not, a national athlete someday. I aspired to be one even if I was reed-thin, height-challenged, and maybe unorthodox as a southpaw.
Never mind that American shoe companies came up with such slogans as "Just Do It" and "Impossible is Nothing" much later in the seventies, eighties, or nineties.
Back in the early 1960s, I was already doing "it" and dreaming the "impossible."
There's one basketball anecdote from my early basketball-playing days that this Hoopster could hardly forget. And maybe it's worth sharing with aspiring basketball athletes from this young generation as well.
Once in 1971 at age 16, I was playing ball (till I got tired) by my lonesome at the Xavier School high-school gym. I usually took 200 shots from all angles every opportunity to practice that I had.
At the time, I had already lowered my expectations. I simply just wanted to play in the school intramurals.
End result, though: I did not make it to my Section D's Team A (traditionally to be the best of the lot). Neither did I earn a slot with Team B (said to be composed of "average" players).
I (finally) made it to Team C (probably defined as the worst of the lot). For me, it did not matter.
That I was selected I truly appreciate. More so, Nirvana was in my mind for, in the end, our section's Team C won the championship over the other sections (A, B, and C).
Allow me to turn back the hands of time. In the hard-fought titular contest, Section D's Team C was leading by a point with 15-20 seconds left and here I was fouled with two free-throw attempts coming up. Shaking under pressure, I bungled both charities.
Fortunately, though how short and skinny I was, I came up with the rebound off my missed second free throw and danced my way out of harm's way till the final buzzer sounded.
Team C, of which I was a part of, was declared the champion.
To the young cage athletes of today, this is what I really wanted to point out.
Individual glory is nice and sweet, perhaps even worthy of an ESPN highlight film. But winning a game or a championship is much, much sweeter for basketball is still a team game, whether it be in 1971 or 2022.
Young dude, where do you stand on this issue?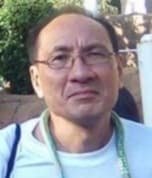 Latest posts by Henry Liao
(see all)