By Henry L. Liao
UNLIKE Atoy (Co), Bill Russell went from right to left
Many NBA followers of the National Basketball Association (NBA) have ranked legendary Boston Celtics center William Felton (Bill) Russell atop their list of the greatest left-handed players ever.

Deservedly so he is. Known for his shot-blocking and rebounding prowess, Russell romped away with a league-record 11 championships in 12 trips to the NBA Finals during his distinguished 13-year playing tenure (1956-69) with the Celts.
However, I am going much farther than that to hail him as my GOAT regardless of whether he was left- or right-handed.
Still, how many of you know that the 6-10 Russell with a wingspan of 7-foot-4 was not a southpaw all his life? He was actually a natural right-hander as a kid.
Blame the switch on his Uncle Robert (Bob). Bill's uncle had been unsuccessful in becoming a first baseman in the Negro baseball leagues and blamed the failure on him not being left-handed. Thus he was determined to make his nephew.
"One time we bought a 22-pound turkey and Bill started in on the leg," recalled Bill's father Charles in the book "Illustrated History of Basketball" by Larry Fox. "Before he got through he fell asleep with the unfinished turkey leg in his right hand. Uncle Robert went over and switched it to his left. Billy's been a left-hander ever since."
The rest, as they, is history.
Russell was named William Felton by his parents in honor of the president of Southeastern Louisiana College in the city of Hammond in Louisiana.
When Bill was eight years old, Russell's dad moved the family out of rural West Monroe, Louisiana, which was highly segregated, to Oakland, California after often struggling with racism and social injustice in their lives.
Russell attended college at the University of San Francisco from 1952-56, leading the Dons to the NCAA national titles in 1955 and 1956 with a 55-game winning streak to boot.
Russell went on to suit up for Team USA in basketball during the November 1956 Summer Olympics in Melbourne, Australia. Again, not known to many, he also dabbled in track and field events at USF. He was the world's seventh-best high jumper as a college senior in 1956 but declined to participate in the sport to focus on basketball where he powered the Americans to a gold medal.
Three weeks later he made his NBA debut with Boston.
It was at this time that the outspoken Russell was exposed to racial injustice right in the predominantly white population in the city of Boston, where blacks were allowed to eat in restaurants or checked-in in hotels owned by whites no matter how great and popular a player that Russell was.
That racism in sports was prevalent knifed Russell deeply. He supported the American civil rights movement and spoke out against the protracted Vietnam War from the mid-1950s to the mid-1970s where 58,220 American soldiers were killed in a fierce battle that the U.S. eventually lost to the communist forces from North Vietnam (Ho Chi Minh) following the fall of Saigon.
Russell was already actively involved in social issues long before world-class boxer Cassius Clay (later named Muhammad Ali) and Ferdinand Lewis Alcindor Jr. (now known by his Muslim name Kareem Abdul-Jabbar) did their part and certainly far earlier than the publicity-driven Black Lives Matter movement that engulfed the NBA in 2020 as LeBron James and other Blacks publicly voiced out their displeasure over the brutal killing of African Americans and police brutality.
Three years after he called it quits as a player, Russell's jersey number 6 was retired by the Celtics on March 12, 1972. It was the same number that he had worn with the Dons and U.S. Olympic team.
Russell was inducted into the Naismith Memorial Hall of Fame in 1975 as a player and in September this year as a coach, having piloted the Celtics to the 1968 and 1969 mountain top as their playing coach.
In June 2007, he was inducted into the FIBA Hall of Fame as a member of the founding batch.
In 2009, the NBA named its Finals MVP hardware in Russell's honor. Two years later, then-U.S. President Barack Obama awarded him the Presidential Medal of Freedom for his accomplishments on the basketball floor and in the civil rights movement. In 2017, Russell became the first recipient of the NBA Lifetime Achievement Award.
Ironically, the city of Boston, which historically is notorious for racism, and the Celtics honored Russell on November 1, 2013, by unveiling a statue in Boston's City Hall Plaza. The design features a statue of Russell in-game action with 11 plinths representing the number of NBA titles that he helped the Celtics win.
The plinths feature a key word and a related quote to illustrate Russell's multiple feats. Funding the project was the Bill Russell Legacy Foundation, which was established by the Boston Celtics Shamrock Foundation.
Today, the 87-year-old Russell remains active in NBA activities although he now walks with a limp and a cane.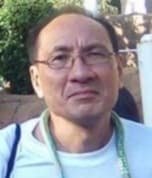 Latest posts by Henry Liao
(see all)