Staying committed to its promise of empowering the European mixed martial arts (MMA) circuit, BRAVE Combat Federation is set to break new ground in the continent this Sunday, August 1st.

The world's fastest-growing MMA organization hosts its forthcoming spectacle, BRAVE CF 52: Bad Blood, in the beautiful Italian city of Milan. From top to bottom, the card is loaded with some of the best mixed martial artists on the planet.
Fans across the globe share their thoughts on the most anticipated contests at the promotion's debut event in Italy.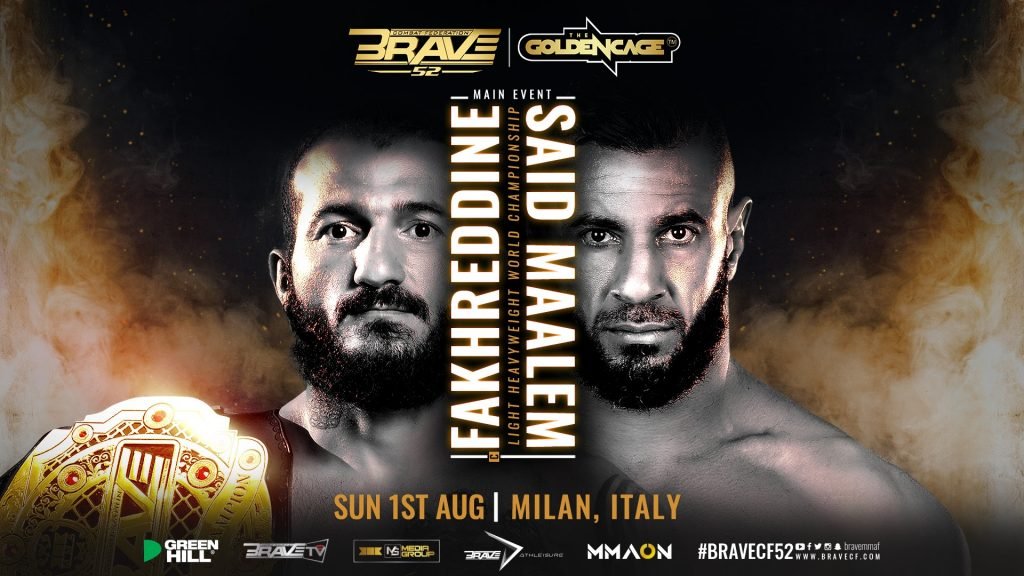 Mohammad Fakhreddine vs. Mohamed Said Maalem
In the main event, BRAVE CF Middleweight World Champion Mohammad "The Latest" Fakhreddine seeks to become the first athlete to ever hold two world titles at the same time in the promotion's nearly five-year history by taking on Mohamed "L'Ambiance" Said Maalem for the vacant BRAVE CF Light Heavyweight World Championship.
Kathleen Ilagan, 29, Philippines – Boxing Enthusiast: "It's definitely a risk worth taking for Mohammad Fakhreddine. I want to say that the Lebanese has a chance to take this—he is very fast and well-rounded. He's very aggressive and not scared to take the fight to his opponent, even coming forward and willing to exchange blows. I don't think moving up in weight will affect the middleweight champ."
Elouan Chartrand, 25, France – Savate Practitioner: "Mohamed Said Maalem is surrounded by an incredible team. He is on a big run, and his last two fights in BRAVE CF showed he can hang with the elite of his division. It's a no-brainer in the fight that he will be the bigger, stronger, and more natural light heavyweight in the fight. I don't have a single doubt that he will get his hand raised. I see him finishing this match-up with a highlight-reel knockout."
Enrico Cortese vs. Rustam Chsiev
Italian heavy-hitter Enrico "The Killing Machine" Cortese is penciled to square off with ground specialist Rustam "The Russian Bear" Chsiev in the co-headliner of the much-awaited show.
Miguel De Leon, 34, Mexico – Amateur Mixed Martial Artist: "Aside from having the hometown advantage, I can sense that Cortese wants to make a point. He is a very good and versatile fighter, and I'm banking on him to do that. Personally, I think Cortese has a better grappling advantage. There will be a lot of grappling in this fight. I don't see much striking, and I see Cortese winning by submission or sheer dominance on the ground until the final bell."
Donnie Copeland, 33, United States – Striking Coach: "Chsiev is a warrior who can strike and grapple without any difficulties. He is like the Russian Dan Henderson. However, his backbone is wrestling. It might sound good to say he is a fighter who can do it all, but on the other hand, it also means he doesn't have a specific weapon. The good thing about it is that he has the energy and stamina to go the full distance. Cortese has a tall order in front of him."
Abdoul Abdouraguimov vs. Nursulton Ruziboev
In a battle between super welterweights, former BRAVE CF Welterweight World Champion Abdoul "The Lazy King" Abdouraguimov is set to duke it out with 2021 Knockout of the Year candidate Nursulton Ruziboev.
Carlito Cusi, 35, Singapore – Graphic Artist and MMA Fan: "These two fighters pack power in every strike they throw and possess an impeccable ground game, which will make for an interesting encounter. I think Abdouraguimov is a bit more well-rounded with his ground work than Ruziboev and has more experience, so I am going with the Frenchman in this one. Besides, I want to see him fight Jarrah Hussein Al-Silawi for the third time."
Paulo Azevedo, 45, Brazil – Former Luta Livre Competitor: "It's a bad idea to underestimate Ruziboev in this fight. We all saw what he's capable of the last time he's inside the cage. He has a never-say-die spirit of a gallant warrior. I think being the underdog ignites something within him. It is a great measuring stick and a challenge for him, but I truly believe in his world-class abilities. I feel he is ready to win this and prove that he is ready for the next level."
BRAVE CF 52: Bad Blood will be broadcasted to more than 150 countries worldwide, and fans can watch via television, computer, or mobile device. The full event stream will be available on the BRAVE CF TV website—with some regions excluded. Check your local listings for time and availability. Don't miss the action!