3,626 total views, 1 views today
by Henry Liao
Sugbu Nation, take a bow.
There have been only seven documented 100 points-or-more individual performances by a Filipino player in Philippine basketball history, at least in the high school, college and major commercial league levels. Sorry to say, alumni and ragtag commercial leagues do not count here.

Three of those seven 100-point feasts were registered by a pair of collegiate players from Cebu City.
Nowadays, it's hard enough for one team to breach the century mark in a game – perhaps due to better defensive strategies by the opposition.
But this Cebuano turned in the trick all by himself, not once but TWICE during his collegiate days. And no other Filipino player has ever done that until now.
His name: Julian A. Macoy, a legendary figure in Cebu sports history.
The 5-foot, 8.5-inch Macoy, who first saw the light of day on January 28, 1940, in Barangay Ilaya, Dumanjug in Cebu was an offensive wizard during his heyday. He drew raves from the Cebuano crowd with his scoring explosions for the University of San Carlos (formerly known as the Colegio de San Carlos).
"I was a forward during my heyday," Macoy stated in a recent exchange of text messages with this writer. "Point guard or (positions) 1, 2, 3 and 4 were not known yet."
Young as he was, Macoy played like a veteran right in his FIRST game with the Warriors in 1957. He racked up 101 points in a game against Cebu Normal School in the Cebu Collegiate Athletic Association, the harbinger of the Cebu Schools Athletic Foundation, Inc. (CESAFI).
"When we played against Cebu Normal School (now known as Cebu Normal University), it was my first time to play," recalled the 81-year-old Macoy, with the photographic memory. "I scored 101 points in just 29 minutes as I was a rookie reserve at the time. The final score was USC 135 – CNS 63 and this was on September 15, 1957."
Just over a year had passed when Macoy again hogged the limelight with his second century-mark bomb.
This time, he torched the Cebu Trade School for 126 points in another CCAA assignment on September 21, 1958, making him the only Filipino ever to register a pair of 100-point performances in Philippine basketball annals.
Recalled Macoy: "I played for only 33 minutes (in that game) and started my scoring in the last eight minutes of the first half. We used to play 20 minutes in each half before, not like today when they play 10 minutes for four periods. Our opponent that time was Cebu School of Arts and Trades or CSAT, which is now known as Cebu Technological University (CTU). The final score was USC 152 – CSAT 80."
Macoy's 126-point effort remains the country's all-time highest scoring mark until now.
More importantly, USC won the title that season, the last before the Warriors sat on the throne once more in 2015 when they defeated the University of the Visayas Green Lancers in the CESASFI finals. By then, Macoy was a consultant for the Green and Gold.
During the 1960 National Inter-Collegiate Championships in Manila, Macoy helped steer the Warriors to a Final Four finish. He was the lone non-Manileno that earned a berth in the tournament's Mythical Five, joining Arturo Valenzona, Romeo Diaz (yes, the late actor) and Pelagio Simon of the Far Eastern University Tamaraws and Elias Tolentino Jr. of the Jose Rizal College (now University) Heavy Bombers.
Macoy graduated from the University of San Carlos in 1961 with a degree in BSC majoring in Banking and Finance – proving to one and all that completing your education was just as important as any athletic accomplishments.
His No. 6 jersey was retired and it now hangs in the rafters of the USC gym.
After graduation, Macoy moved to Manila to play in the premier league Manila Industrial and Commercial Athletic Association (MICAA). He saw action with the Yutivo Athletic Club for a decade (1961-70).
"Ang dating tawag sa Yutivo ay Chevrolet before it became the Opels," said Macoy. "Those are the cars that was assembled by Yutivo."
"Ang naging coach sa Yutivo noon 1961-63 was Lauro Mumar. From 1964 to 1970 naman ay si Kiko (Francisco) Calilan."
Among his teammates at Yutivo was the late national teamer Rogelio (Tembong) Melencio and ambidextrous guard Ernesto Morales
A hip injury forced Macoy to migrate to Chicago, Illinois in America where he worked in the U.S. Postal Department in Oak Park for nearly three decades. He retired in October 2003 to return to Cebu.
Macoy became the head coach at USC in May 2012 following an eight-year stint as CESAFI deputy commissioner (2005-12) He lasted only two seasons on the Warriors bench.
Thanks to his legendary scoring accomplishments, Macoy was among the first batch of inductees into the Cebu Sports Hall of Fame in 1990.
---
There was another collegiate player from Sugbu who breached the 100-point barrier.
In 1990, Felix Duhug of Cebu Institute of Technology amassed 112 points in a CCAA contest against CSAT. He connected on 30 three-pointers for the all-time single-game record in PH college annals in that department.
Duhig later suited up in the Philippine Basketball League (PBL) for Crispa. He then was selected by Alaska in the second round of the 1993 Philippine Basketball Association (PBA) draft.
Despite his offensive prowess, Duhig failed to make it to Asia's first professional league.
---
Meanwhile, three other 100 points-or-more performances by a Filipino roundballer founded their way to Wikipedia's "List of basketball players who have scored 100 points in a single game" around the world.
Those officially documented were the following:
Luis (Lou) Salvador's 116 points in the Philippines' gold medal-winning game against the Republic of China during the 1923 Far Eastern Games in Osaka, Japan, said to be the harbinger of the Asian Games yet featured only three countries – Japan, China and the Philippines.
Note that the 30-second shot clock was not yet in existence at the time and neither was the three-point shot.
A product of Jose Rizal College, the prolific and well-conditioned Salvador unbelievably made most of his shots from midcourt during his historic game against the Chinese.
Salvador's 116-pointer is still the highest output ever for an official international tournament (as distinguished from a local/foreign league competition) until now.
According to Leyte-born Salvador, he had practiced with a medicine ball daily for a whole year at the YMCA compound before registering the mind-boggling feat.
Salvador later became a movie/stage actor and producer and was known to local showbusiness as the "Master Showman" and father to a dozen actors and actresses. Legend has it that he sired 58 children during his earthly existence. He lived with 25 wives and had 24 of them under one roof at one time.
Among his children were Leroy Salvador, Alona Alegre, Philip (Ipe) Salvador and future PBA player Roberto (Jumbo) Salvador.
Jeron Alvin Teng's 104 points during Xavier School's 164-74 shellacking of Grace Christian College in a Metro Manila Tiong Lian Basketball Association (MMTLBA) high school game in January 5, 2011.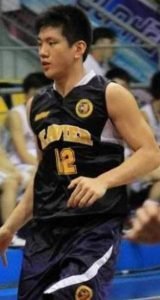 Before a sparse crowd of nearly 700 people at the state-of-the-art Jacinto Tiu Court in Xavier School's Father Rafael Cortina Center in San Juan City, the 6-2 Teng, then a 16-year-old HS junior, shot 37-for-70 from the field (including 1-for-5 from three-point range) and went 29-for-34 from the free-throw line while playing 35:22 minutes of a maximum of 40 for the Golden Stallions.
Son of former PBA player Alvin Teng with the moniker Robocop and a younger brother to University of Santo Tomas product Jeric Teng, Jeron posted quarter scores of 27, 16, 25 and 36 points. He also collected 24 rebounds (20 of them off the offensive glass), six steals and a pair of shot blocks. (He did not issue a single assist, though.)
Overall, Teng averaged 39.5 points in 16 Tiong Lian appearances that season, leading Xavier School to the title with a 15-1 record. Moreover, he shattered Jeric's 39.3-point clip with the Golden Stallions during a championship-clinching 9-0 finish in 2009.
Jeron, of course, subsequently secured a pair of titles with De La Salle University in the University Athletic Association of the Philippines (UAAP) in 2013 and 2016. He's now with the Alaska Aces in the PBA.
Little-known Clark Quijano's 120 points during AMA Computer University's 166-85 blasting of Lord's Grace Christian School in the 7th Mariano Bondoc Cup high school tournament held at the Hope Christian Academy gym in Fairview, Quezon City on October 20, 2013.
That effectively established a new all-time record for most points by a high school athlete in Philippine basketball history.
The 6-foot Quijano netted his 120 points in just the first three quarters. He went 59-41-20 before his Junior Titans coach graciously benched him in the entire fourth canto. Note that he had already reached the century mark by halftime.
---
Then again, here's the thing: There was a seventh 100-point Filipino point-producer but its legitimacy remains suspect to some hoops purists.
Cesar A. Dumlao, a government official during the martial law era under President Ferdinand Marcos, once drilled in 148 points for the National Irrigation Authority in the Government Commercial Athletic Association (GCAA), an inter-government department tournament that also featured teams from the National Grains Association, Masagana 99 and Maisagana 77, at age 50 or more.
Indeed, Dumlao owned a sweet shooting touch (meaning, he could put the rock into the hole consistently with his set shot). Yet, most people took lightly of the government league that he played in between the 1970s and early 1980s.
How could anyone take the pint-sized Dumlao's feats seriously when the opposition often left him unguarded (out of respect for the position he held in government) during the games? Furthermore, the league even had a novel four-point rule.
With a four-point rule that was – and still is – not endorsed by the International Basketball Federation (FIBA), the games in the GCAA could hardly be deemed "official."
What's more, the GCAA games were held at his own gym – the Dumlao Gym.
For whatever it's worth, let's give Dumlao some credit.
Outside of him, I have yet to come across another 50-year-old local who could light up the scoreboard for that many points, unguarded or otherwise.
Hoisting the rock a hundred times during a 40-minute game – official or unofficial – is already hard enough and real tiresome. And making them at a 50-percent rate is simply phenomenal.
Don't ever try it at your own gym. It could be hazardous to your health.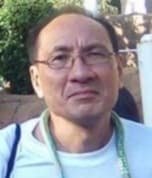 Latest posts by Henry Liao
(see all)