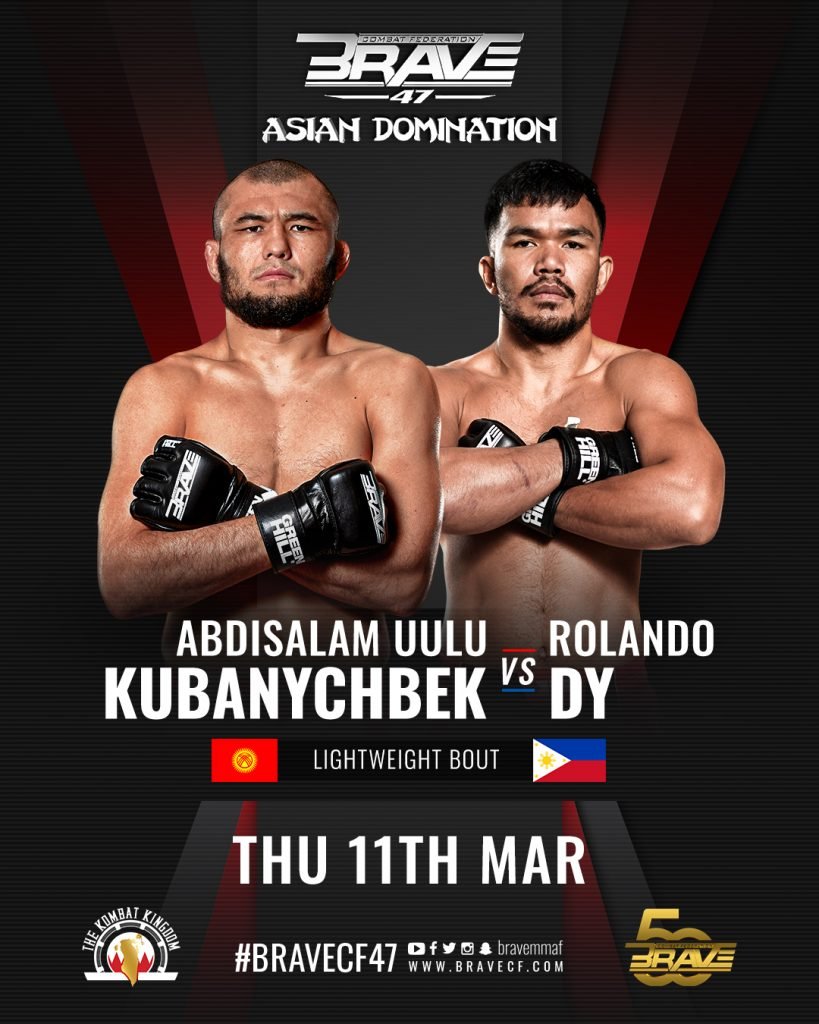 BRAVE Combat Federation has revealed the first main event when it return to Kombat Kingdom on April 1 but there is something more interesting to check out before that.

It has been announced that there will be a Lightweight Title Eliminator clash between Kyrgyzstan's Abdisalam Kubanychbek and the Philippines' Rolando Dy, serving as the main event for BRAVE CF 47 on March 11.
With a professional record of 17 wins and only three losses, Abdisalam "Omok" Kubanychbek arrived at BRAVE Combat Federation in 2019 and since then quickly became one of the most prominent Lightweight fighters in the promotion.
"Omok" earned back-to-back knockouts, against João Paulo Rodrigues and Vagif Askerov, and recently, at BRAVE CF 46, last January, submitted Jahongir Saidjamolov in the second round.
But the hype is no smaller when it comes to Rolando Dy. The Filipino powerhouse was voted the 2020 BRAVE CF Fighter of the Year, after defeating Maciej Gierszewski and John Brewin within a two-month span.
A veteran of MMA even though he's only 29 years old, Rolando Dy has dominated the competition since he made the move to the Lightweight division and earned the right to fight for a title shot at BRAVE CF.
BRAVE CF 47 will be the first of four events taking place at Kombat Kingdom within a 21-day span. The series of fight nights will continue until April 1st, when BRAVE Combat Federation will host its 50th edition, a show promised as the biggest event ever put together by the organization.