By Henry L. Liao
Carlos (Caloy) Loyzaga, a member of Class 2023 to be inducted into the FIBA Hall of Fame during the FIBA World Cup in the Philippines (along with Japan and Indonesia), propelled San Beda College to four championship, including three NCAA titles, during his stellar Red Lions career from 1951-55.
Unknown to many local hoop fans, the do-it-all 6-3 Loyzaga also was a sought-after prospect even after his Red Lions days were over.
Following his second Olympics stint in the 1956 games in Melbourne, Australia – his first came during the 1952 festivities in Helsinki, Finland – where his prodigious all-around performance caught the attention of many collegiate scouts and gained him nomination to the Olympic all-star team, Loyzaga was twice offered to play for the University of Oregon Ducks in the U.S NCAA, all expenses paid.
The first offer he turned down as he just did not want to be away from his mother, brothers and sisters.
Loyzaga rejected the second offer a couple of years later because of Victoria Cuerva, his beauteous wife, and son Joaquin Jr. (or Chito), his first-born and a potential heir apparent.
In the end, Loyzaga continued to play with the Yco Redshirts/Painters in the commercial leagues, notably the prestigious MICAA. He propelled the Don Manolo Elizalde-owned club to a record seven straight National Open championships from 1954-60 and a 49-game winning streak over a three-year period from 1954-56.
Overall, King Caloy amassed a total of 25 gold medals during a memorable 15-year playing career that ended in 1964 at age 34 due to a chronic knee injury.
On the day he retired, the well-respected national newspaper, The Manila Times, paid tribute to Loyzaga with this declaration: "Philippine basketball lost its toughest pillar with the retirement of Carlos Loyzaga, undoubtedly the greatest cager the country has ever produced.
" …. The retirement of Caloy brings to an end 15 years of solid performance both in local and international courts, an enviable record which no one in the whole of Asia would probably be able to match."
Deservedly so, Loyzaga was inducted into the National Basketball Hall of Fame as a first-batch entry in January 1999.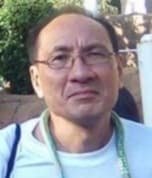 Latest posts by Henry Liao
(see all)