By Brian Yalung
The BaliPure Purest Water Defenders caught the attention of volleyball fans when they pulled off some surprising wins over favored teams in the 2021 PVL Open Conference.

After dropping their first assignment to Black Mamba Army, they pulled off a shocking 3-2 win over the favored Chery Tiggo. To prove it was no fluke, they followed that up with a 3-1 win over the Cignal HD Spikers.
At that point, most knew that the Purest Water Defenders meant business. Unfortunately, their bubble burst when other PVL heavyweight teams entered the fray.
The Creamline Cool Smashers sent BaliPure crashing back to reality (0-3), followed by Choco Mucho (1-3), Sta. Lucia (0-3) and then Petro Gazz (0-3).
Losing four consecutive games, BaliPure knows making it to the next round is beyond reach. Regardless, that will not stop the Purest Water Defenders from playing their hearts out.
"There's always a sense of urgency after every loss. We have been practicing and trying to address yung mga flaws na nakikita namin sa team," BaliPure coach John Abella said in an interview. "We are treating it as must win games kasi we want to finish the conference strong and on a winning note," he added.
Looking at their games, BaliPure is a team groping for form. The errors made during key moments proved costly and Abella knows they could have done better.
"I am satisfied with our performance but we could've been better especially sa mga ilan close games namin," he explained.
Abella knows that his players are giving their best in the tournament, a reason why he prefers to keep the mood light.
"We are keeping the mood light para di masyado mapressure ung mga players kasi we know naman na they are doing their best," Abella quipped.
Looking ahead, BaliPure knows that it needs to work on its consistency if they are to give the top PVL teams a run for their money. The Purest Water Defenders have shown they can stand up to souped-up teams but consistency remains key.
"Our consistency is our main concern now kasi we know that they can do it and they have proven it sa ibang games naming," Abella said.
With their season slowly coming to a close, Abella is grateful to the management and the fans for their trust and continued support to the team.
"To all our supporters, we thank you for all your prayers and support. Rest assured that we will continue to play hard and try to win our remaining games," Abella ended.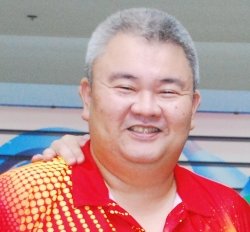 Latest posts by Brian Yalung
(see all)