In 2013, UFC lightweight champion Khabib Nurmagomedov made famous the phrase "If Sambo was easy, it would be called Jiu-Jitsu," something printed on a shirt while he was in Brazil for a match.

It did not sit well with some Brazilian fans, some offended because it belittled their national martial art. But the individual to blame was really BRAVE CF super lightweight world champion Eldar Eldarov. It was he who convinced "The Eagle" to wear it when he bumped into the Russian for his bout against hometown hero Thiago Tavares in Sao Paulo.
After seeing a somewhat similar statement in training, he was inspired to make one referencing sambo and Brazlian jiu-jitsu. So when Nurmagomedov stepped on the scales for his three-round clash with Tavares, the prominent Russian posed in front of the cameras sporting the shirt with the heckling tagline.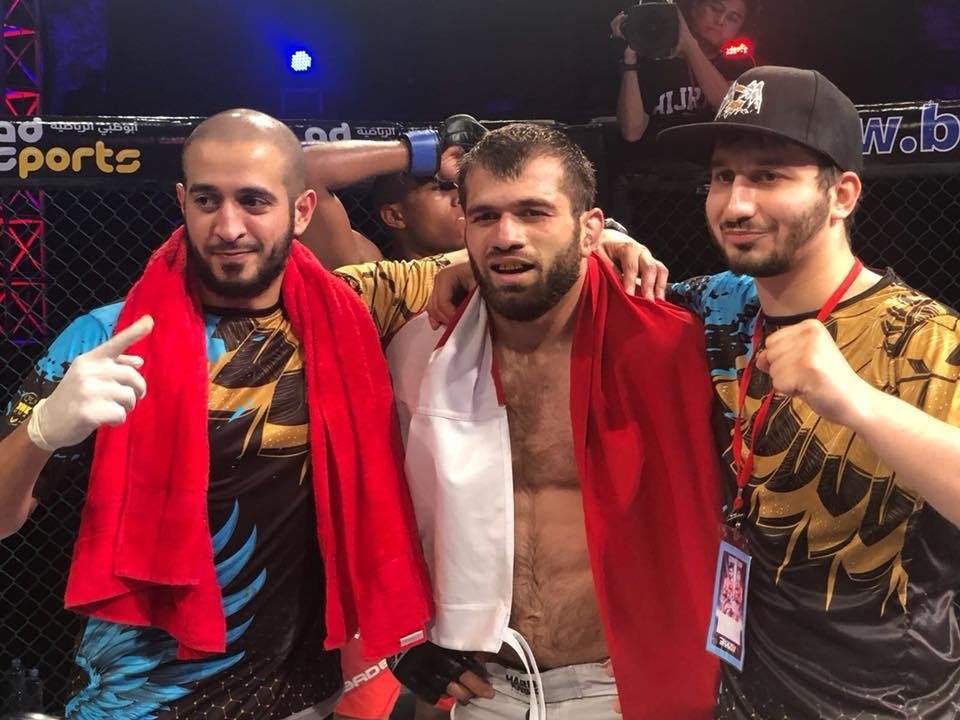 "The person who put this phrase on the t-shirt was me," Eldarov shared in jest. "I got the idea for the phrase when I went for judo training and saw someone wearing a t-shirt with the phrase 'If Judo was easy, it would be called football'. I was set to go to Brazil to corner Khabib at the time. So I bought a black t-shirt and printed the phrase on it. He wore it at the weigh-ins."
However, both Eldarov and Nurmagomedov didn't expect the social media uproar that it would create.
"As soon as we got back to the hotel and turned on the wi-fi, we were bombarded with messages from people talking about the t-shirt. It became very controversial, some people even went to the extent of giving death threats. It wasn't intended to be offensive, it was just a joke. At the end of the day, we respect all sports," Eldarov clarified.
Eldarov will now defend his world title versus another Brazilian in Leonardo Mafra, who is widely known for his Muay Thai pedigree, but is a proud recipient of a brown belt in Brazilian jiu-jitsu and an eager defender of the "Gentle Art."
The two super lightweights are set to collide in the main event of BRAVE CF 46, which takes place in the beautiful city of Sochi on January 16th as the fastest-growing MMA organization in the world ventures on Russian soil for the first time to kick off 2021.
Russia will become the 21st country to host a BRAVE CF event, a feat achieved in little over four years of operations, something never done by any other promotion in the globe.